| | | |
| --- | --- | --- |
| | Welcome to Santa Clara, California - VIRTUALLY! | |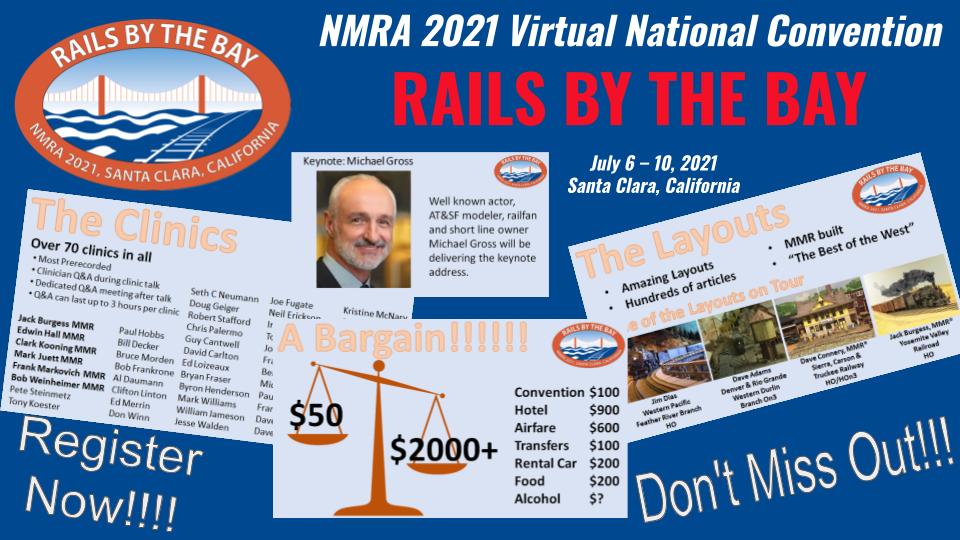 While we were saddened to cancel the live in-person convention we were all looking forward to, the 21st Century Limited Corporation and the members of the Pacific Coast Region are pleased to announce that planning for a substitute multi-day video virtual event via the Zoom Webinar Platform is well underway. There will be two clinic tracks, a Great Hall, and up to 100 Birds of a Feather Breakout Rooms each day.
Scheduled to run from Tuesday, July 6 through Saturday, July 10, 2021, this five-day event will mix live and recorded events, including, but not limited to:
75 Video Clinics
45 Video Layout Tours
4 Prototype Tours
100/day Birds of a Feather Breakout Rooms for live discussions
Virtual Operating Sessions
Q&A Sessions
The Clinic Goes On Sessions
Layout Owners Panels
Meetings
Each convention day will run from 8:00 AM to 10:00 PM, Pacific Daylight Time. Most content will be recorded and available for playback after the original live presentation. A dedicated team of volunteers is working to make this a great convention, all for a cost of just $49.00.

You asked for it! We listened! The clinic recordings will now be available online for playback an additional two weeks until August 7th for a total of FOUR weeks! The "Clinic Goes On" and live Q&A sessions will not be recorded.
The planning committee draws members from 21st Century Limited Corporation, a California nonprofit corporation that successfully ran NMRA's highly regarded San Jose 2000 and Sacramento 2011 NMRA National Conventions, as well as local modelers and operators. Pacific Coast Region of the National Model Railroad Association, Inc. is also a co-sponsor of Rails by the Bay.
Current Plans Include:
Video Clinics
We have a clinic by Frank Markovich, MMR® who will describe building parts of the "Magic of Scale Model Railroading" exhibit at the California State Railroad Museum in Sacramento, the capital city of California. We will also feature more than 70 clinics by some of the hobby's most well-known modelers like Jack Burgess, MMR®, Bob Frankrone, Joe Fugate, Edwin Hall, MMR®, Mark Juett, MMR®, Tony Koester, Clark Kooning, MMR®, Bruce Morden, Seth Neumann, Pete Steinmetz, and Bob Weinheimer, MMR®. See the Clinics page for the complete lineup of clinicians.
Video Layout Tours
We'll also be offering pre-recorded video layout tours, coupled with live moderated Q&A sessions with layout owners. You'll virtually visit the top-quality layouts of modelers like Jack Burgess, MMR®, Guy Cantwell, Dave Connery, MMR®, Bill Decker, Dave Houston, Otis McGee, Dave Stanley, and more. Visit the Layout Tours page for more information.
We recommend you watch these videos before the convention to more fully appreciate the live Q&A sessions with the layout owners.
Model Show
We're also developing an online, photo-based model show to showcase the models you've built in the past year, with a "Meet the Modeler" panel so you can chat about your techniques.
Special Interest Groups
Interested in layout design? We'll offer a complete Layout Design SIG program including videos of LDSIG-oriented layouts, and a panel discussion about lessons learned and layout improvements. For operators, virtual op sessions (either as an active participant or viewer) are also under development. We will offer a number of channels for interaction among the attendees to capture some of the feeling of meeting old friends in the hallways.
Be sure to check out the new Birds of a Feather Breakout Rooms page for a partial list of participating groups. Plans are in the works to have hobby manufacturer-hosted breakout rooms.
Actor Michael Gross to Offer Video Message
Well-known actor, modeler and railfan MICHAEL GROSS will be offering a special video address during the week; Michael's past convention banquet talks have earned accolades.
Mr. Gross is a model railroader, a railroad historian with a large collection of railroad antiques, and part owner of the 1:1 scale Santa Fe Southern Railway, a former branch line of the AT&SF which operates between Lamy and Santa Fe, New Mexico. He is spokesman for the "World's Greatest Hobby" campaign, Operation Lifesaver, and the B&O Railroad Museum in Baltimore, Maryland. He is a member of the Santa Fe Railway Historical Society. In 2016, he narrated Kalmbach's DVD release "20th Century Limited" about the famed New York Central train which ended service some 50 years ago. He also appeared in the 2016 documentary "Model Citizens". The hobby is lucky to have someone from the entertainment industry so active in our organizations and programs.
Mr. Gross has been active in film and television since 1975. He starred as Steven Keaton in the TV situation comedy "Family Ties" for seven seasons, and played Burt Gummer in five motion pictures in the "Tremors" franchise. He has appeared in "Anger Management," "Suits," "How I Met Your Mother," "Law & Order," and many other productions.
National Train Show
The National Train Show, which is separately planned and operated, remains canceled and will not be held virtually this year.
Updates
Check the News & Updates page for the latest updates on additions, cancellations, and other updates to clinics and other events as the information becomes available.
Registration
Please see the Registration page for online and mail-in registration options.
Contacts
Media Inquiries: publicity@nmra2021.com
Registration and Refunds: registrar@nmra2021.com
---
This has been a year unlike any other, and we appreciate your patience and positive support as we continue to develop the convention under challenging conditions.
This page last updated: