Convention Hotel Information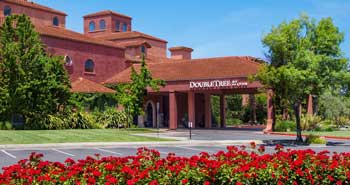 The Enduring Rails 2018 Convention Hotel is the DoubleTree by Hilton Hotel Sonoma Wine Country, One Doubletree Drive, Rohnert Park, CA 94928. (MAP)
The convention special room rate is: $169.00 + tax
Reservations will be available in early 2018. Attendees with the earliest registrations will get first shot at housing, so register for the convention early.
Why Should I Stay at the Convention Hotel?
It is important to note that the convention committee must commit to a block of rooms as the incentive to get access to all of the space needed for the clinics, contests, banquet and other events offered to convention attendees.
If we don't fill the room block as required, it will cost the convention a substantial additional amount. We priced the convention to keep it a low cost event for our attendees. Please help us ensure this low cost by staying at the convention hotel. We're sure that you will be pleased with your decision.
DoubleTree by Hilton Hotel Sonoma Wine Country
One Doubletree Drive
Rohnert Park, CA 94928

Ron Kaiser
Facilities Chairman
This page last updated: