| | | | |
| --- | --- | --- | --- |
| | Welcome to Concord! | | |
The Pacific Coast Region - NMRA and Western Railway Museum cordially invite you to attend the Clear to the Coast 2020 PCR & WRM Joint Convention in Concord, California, at the Crowne Plaza Concord / Walnut Creek, 45 John Glenn Drive, Concord, California, 94520. (MAP) Plans and preparations are well under way by a dedicated team of PCR and WRM volunteers working together to ensure you will have a rewarding and enjoyable experience at the Clear to the Coast 2020 PCR Convention.
Clear to the Coast 2020 runs from Thursday, April 30 through Sunday, May 3, 2020, starting at 8:30 AM for registration check-in and ending with the Sunday morning PCR Annual Business Meeting.
Sandwiched between the two will be a veritable smorgasbord of model railroading activities you've come to expect at PCR conventions, including clinics, contests, prototype tours, layout tours, operating sessions, breakfasts, banquet, and more!
Mark your calendars now, figure out how to get to Concord, then get ready for some real model railroading fun and enjoyment. • BART and Amtrak bus schedule
What can I expect for this Convention?
Clinics - The clinics program will focus on new innovations and techniques. It will also feature clinics which capture the oral history of actual railroad experiences from our members.
New for 2020! – Friday evening will feature a series of mini-clinics. These are a number of half-hour clinics on a wide range of topics. They will be very small group clinics, allowing you to get up close and learn. We're anticipating attendees will have 6 – 8 or more to choose from. Every half hour, the train whistle will blow, and attendees move to the next clinic of their choice.
Contests - A special, popular vote diorama contest comes to the PCR Convention from Coast Division – The Square Foot Challenge. The rules for this contest are really complicated. Be sure to check the Contests page for all the rules. (There are only two!) To see what was done for the March 2019 Coast Division meet, see the photos on pages 25-27 of the April-May-June 2019 Branch Line newsletter.
Layout tours - Layout tours will take advantage of the large number of high-quality layouts in the Bay Area. The Bay Area is known for great layouts in all scales and gauges! Having the Convention hotel in Concord in the East Bay provides a central location for getting to a number of these great layouts.
Operating Sessions - The Bay Area is also a hotbed for layout operating sessions and we will have a number of them available for attendees. Register early to get a better chance to participate in these operating sessions.
Prototype Tours - Several great tours are being planned. Watch the News & Updates page for the latest information. The first tour is now available! See the Prototype Tours page for the Western Railway Museum Tour.
Registration
The Full-fare Registration Package is only $150.00 and includes the Awards Banquet and PCR Breakfast meal tickets.
The Non-Rail Fare is $40.00 and also applies to female or male spouses who are model railroaders. This fare includes registration, clinics, contests, layout tours, and the Non-Rail luncheon. Awards Banquet and PCR Breakfast meal tickets are not included, but may be purchased separately.
Basic registration (no food events) is just $80.00.
Awards Banquet ($70.00) and PCR Breakfast ($40.00) tickets may be purchased at registration or separately after registering. See the Company Store page to add these meal tickets to your registration package.
"Early Bird" Special
Register early and take advantage of the "Early Bird" special of $130.00. We are offering a discount of $20.00 off the normal Full-Fare registration if you register by 11:59 PM, November 30, 2019. Starting December 1st, Full-Fare registration will be $150.00. Go to the Registration page to register before 12/01/19 to avoid the price hike.
Special "First Timer" Fare
The special "First Timer" fare of $110.00 is available for PCR members that have not registered for the past 5 conventions.
Day Fare
Day Fare is $40.00 per day and does not include any food events.
What's Included?
All fares include convention registration, clinics, contests, and layout tours. The Full-fare, Early Bird and First Timer registration packages also include meal tickets for the Awards Banquet and PCR Breakfast.
There will be extra costs for outside events or special clinics, if admission tickets, transportation, or materials are required.
Visit the Registration page to register.
Convention Car
This year's convention car is an HO-scale Accurail Sacramento Northern 40′ Boxcar kit. Cost per car is $28.00 each and each additional car is $25.00 in the Company Store.
HO-Scale Accurail Kit
$28.00 each, additional cars $25.00 each
Click for larger photo
Photo courtesy Western Railway Museum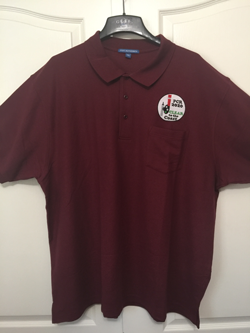 Convention Shirt
This year's convention shirt is a 65% polyester, 35% cotton blend, burgundy polo shirt with pocket. The convention logo will be embroidered above the pocket, with a price of $38.00 for sizes small to 1X, $32.00 for 2XL to 6XL. Order on the online registration form or, if already registered, on the Company Store page.
Door Prizes
We are soliciting door prizes from many of the fine manufacturers of model railroad equipment and publications. They have been generous in the past, and we anticipate some wonderful offerings for Clear to the Coast 2020. Each registrant will have a chance to win a door prize — you could be a WINNER!
We would also welcome donations of good, new kits, ready-to-run equipment, new (or in excellent condition) books, DVDs, or modeling tools from convention attendees. If you have some of these you find surplus to your interests, bring them along and donate them for door prizes. We'll find them a new home. Donations in all scales are welcome.
See you in Concord!
This page last updated: