| | | | |
| --- | --- | --- | --- |
| | Welcome to Fresno! | | |
The members of the Daylight Division are proud to present the Sugar Pine Centennial 2021 Pacific Coast Region Convention from Wednesday, April 21 through Saturday, April 24, 2021. The start date is correct! Keep reading for more details about the Advance Section on a fourth day!

Convention Cars now on sale!
---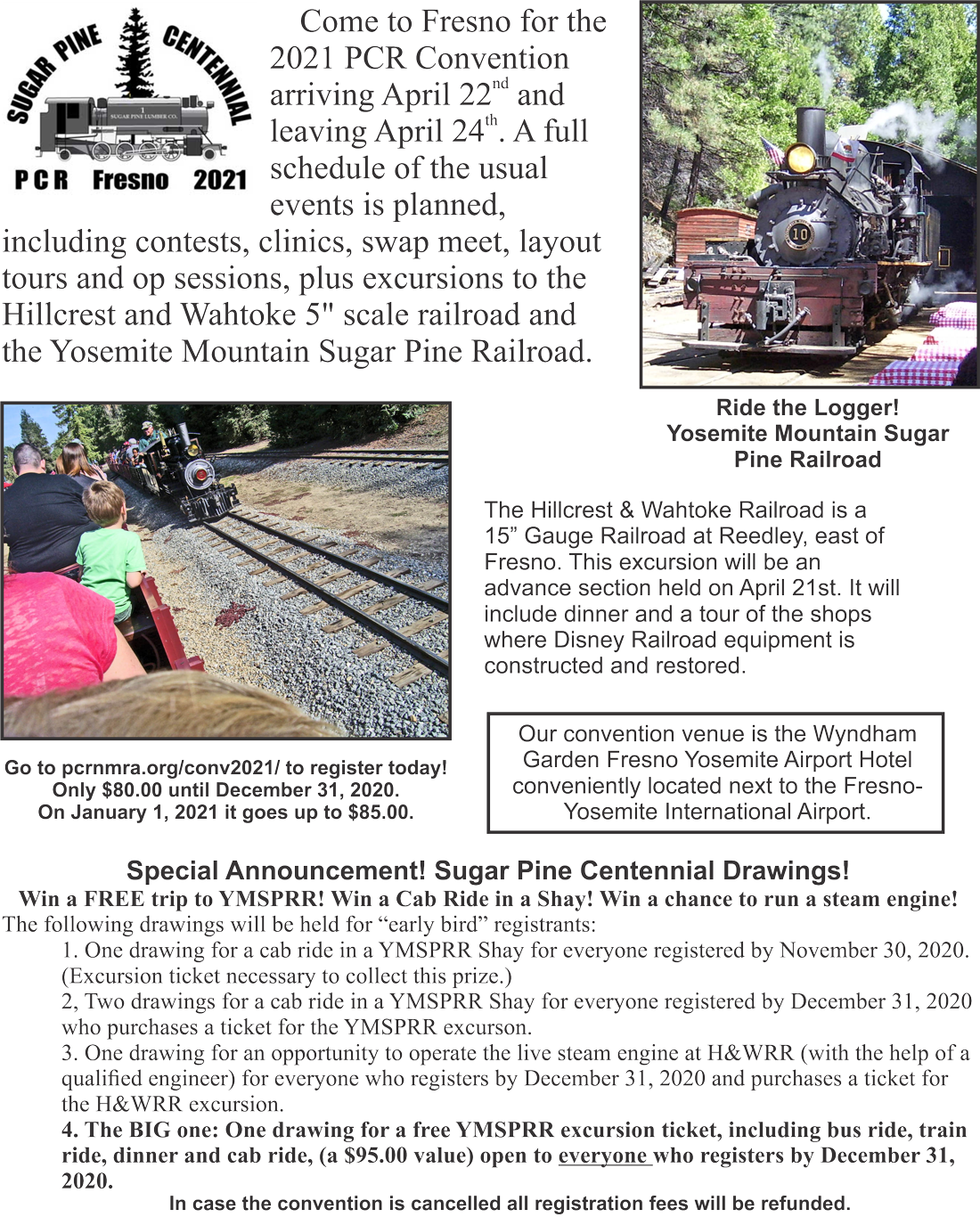 ---
Mini-convention
Because the NMRA National Convention, Rails by the Bay 2021, will be hosted by the PCR in Santa Clara, July 4–10, 2021, this year's PCR convention is a "mini-convention." What the heck is a "mini-convention?" you ask? Well, it's a three-day affair, instead of the usual four days. It may be fewer days, but we're planning so many activities and events that you will not be able to get them all in!
Promo Video Added!
Be sure to watch the promotional video by Bruce Morden at https://youtu.be/-IfWHPfmv94 describing the activities to be offered at Sugar Pine Centennial 2021. Enjoy!
Fourth Day Added!
We have added a fourth day to the Sugar Pine Centennial 2021 Convention! We will have an "Advance Section", on Wednesday afternoon, April 21, for an excursion to the Hillcrest & Wahtoke Railroad, located in nearby Reedley, just southeast of Fresno. See the Excursions page for details.
There will also be a drawing for an opportunity to operate the live steam engine at Hillcrest & Wahtoke Railroad (with the help of a qualified engineer) for everyone who registers and purchases a ticket for the H&WRR excursion by December 31, 2020.
Packed into those three four days will be a veritable smorgasbord of model railroading activities that you've come to expect at PCR conventions, including clinics, contests, excursions, layout tours, operating sessions, banquet, and more!
The Sugar Pine Centennial 2021 PCR Convention hotel is the Wyndham Garden Fresno Yosemite Airport, 5090 East Clinton Way, Fresno, conveniently located adjacent to the Fresno Yosemite International Airport. This facility offers modern comfortable accommodations and complete convention services under one roof. MAP
Updates
Check the News & Updates page for the latest updates on additions, cancellations, and other updates to clinics, excursions, and other events as the information becomes available.
Convention Car
This year's convention car is a custom-made resin casting (not 3D printed as stated in the 12/15/20 PCR Newsletter) flat car with Kadee couplers and wheel sets. The Sugar Pine Lumber Railroad owned six of these all-steel moving cars, numbered 1 through 6, to transport its electric yarders and loaders. The yarders pulled themselves onto the cars by means of a brow log and cable hook-up. Yarders are a critical link in the chain of tools required to get lumber from a mountainside to a loading area, where it can be transported to the mill. See page 101 in Rails to the Minarets, by Hank Johnston, for a photo of the prototype.
Only 50 of these HO-scale ready-to-run limited edition cars will be made for the convention. A resin casting crate load with the Sugar Pine Centennial 2021 logo is included and may be displayed as a load on or off the car. A separate decal sheet with car numbers 1 through 6 is included, so you can number it as you wish.
NOTE: Limit 3 cars per person.
HO scale only
(Click photos for larger image)
Model and Photos by Milton SanSoucie
QTY
COST
1 car
$ 30.00
2 cars
$ 58.00

3 cars maximum

Includes CA state sales tax
You may order your cars on the Company Store page if you have already registered or when registering for the convention with RegFox. Your cars will be ready for pickup at the convention.
All prices include California sales tax where applicable.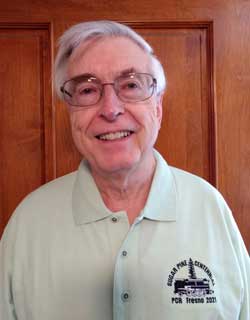 Convention Shirt
This year's convention shirt is a 5oz. 65% poly/35% cotton pique, mint green polo shirt with the convention logo embroidered on the left side. It is available in sizes small to 5X and has flat knit collar and cuffs, metal buttons with dyed-to-match plastic rims, double-needle armhole seams and hem, and side vents.
SIZE
COST
Small
$28.00
Medium
$28.00
Large
$28.00
XL
$28.00
2XL
$30.00
3XL
$32.00
4XL
$34.00
5XL
$36.00

Includes CA state sales tax
Shirts must be ordered by March 31, 2021 and can be picked up at the convention. Order on your mail-in or online registration form or, if already registered, on the Company Store page.
Shirts may also be ordered before the convention directly from the vendor, Daylight Sales (not affiliated with Daylight Division), at prices stated on their website, for shipment to your home prior to the convention. California state sales tax plus $7.95 for shipping will be added to your order. Arrive at the convention in style wearing this comfortable classic polo, embroidered with the Sugar Pine Centennial 2021 convention logo.
NOTE: Orders placed on RegFox PCR NMRA or on the Company Store page include California state sales tax and shipping to the convention.
See you in Fresno!
---
This page last updated: