| | | |
| --- | --- | --- |
| | Welcome to Sacramento, CA! | |
The Pacific Coast Region and the Feather River Rail Society cordially invite you to attend Rails by the River 2023 Joint PCR/FRRS Convention in Sacramento, California, at the Courtyard by Marriott Sacramento Cal Expo, 1782 Tribute Rd, Sacramento, CA 95815. (MAP) Plans and preparations are well under way by a dedicated team of PCR and FRRS volunteers working together to ensure you will have a rewarding and enjoyable experience at Rails by the River Joint PCR/FRRS Convention.
---
The website has been updated with the very latest information available about what we're planning for you starting on April 26th in 2023. It is updated on a regular basis. See the News & Updates page for the latest important changes. All times on this website are Pacific Daylight Time (PDT).
Online Registration Closed
Online registration is now closed. Registration will be open again on Wednesday, April 26 at 3:00pm at the hotel. See you all there.
Rails by the River Convention Virtual Coverage - Non-NMRA Member Participation
The Rails by the River Convention committee has decided to open up the virtual convention to Non-NMRA members. The price will be $65 and will include a 9-month RailPass (normal price $19.95) trial membership which will be completed for you. As such, this offer is only valid for those who have never used the RailPass before and who have not been a NMRA member for the past two years. Also, a RailPass membership is only valid in the U.S. Participation includes all the items listed below for the Virtual Convention.
Click Registration to go directly to the Registration page. Scroll down and select "Virtual Convention plus NMRA Trial Membership ($65.00)"
Excursions
We know you've been waiting for them. Rails by the River 2023 is happy to announce that we have arranged three special tours in the Sacramento area. These include the State Museum Collection, Siemens Factory Tour (steel-toed shoes or covers required), and the California State Railroad Museum. Please visit the Excursions page for more details. To sign up and pay for an excursion, click here: RBR 2023 Convention Store. Please note: to participate in an excursion, you must be registered for the in-person convention. Registration for the virtual convention does not gain access to excursions.
Convention Cars Now On Sale!
Rails by the River 2023 is proud to offer an Accurail HO-scale 1951 40' AAR Single Door Steel Boxcar (oxide red) kit as our convention car this year. It will come as a data-only car so you can modify it for your favorite railroad and will include decals of the Convention Logo, PCR NMRA Logo, and Feather River Rail Society Logo. Cars cost $25.00 and can be purchased through the RegFox registration system. Click here to go directly to the sales page:
RBR 2023 Convention Store
.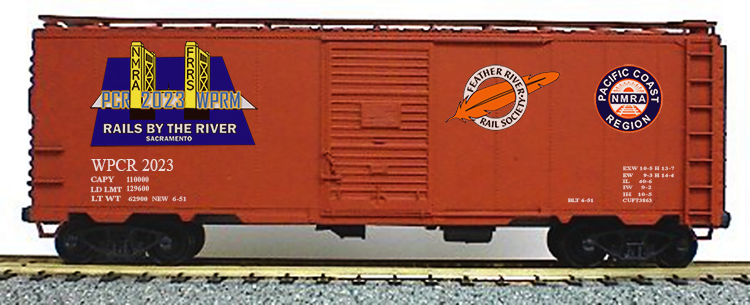 Convention Shirts Now Available as a Direct Order from Daylight Sales!
Convention shirts in both "polo" or "ladies polo" styles are now available direct from Daylight Sales. They are available in sizes small to 4XL with cost from $31.95 to $38.95 plus tax and shipping. Order yours today to ensure delivery before the convention starts.
Click here to order: Rails by the River 2023 Convention Shirt
Rails by the River Convention Virtual Coverage - Price Change
For those who are not able to make it to Sacramento for an in-person experience, many of the FRRS and NMRA clinics will be available for viewing at our on-line virtual platform.
The virtual clinics will feature a high-quality video feed of selected clinics as well as coverage from the contest room throughout the convention.
Registration for a Virtual Fare has been returned to

$50.00!

A post clinic "breakout room" will be available to virtual attendees for Q & A with many of our convention clinicians as well as "Birds of a Feather" sessions
The convention virtual content will also be available to all who register at Full, Express and Day Fare levels.
The virtual coverage will also include coverage of the contest entries.
Hotel Rooms for Saturday sold out - UPDATE: now ALL rooms
The Marriott has informed us that all hotel rooms for ALL days at the at the convention rate have been booked. They say there are still some rooms at the regular rate available.
See the Hotel page for a list of alternate hotels in the area including two other Marriott hotels on the same property.
Courtyard by Marriott Sacramento Cal Expo
Door Prizes!
One item that everyone always seems interested in is the door prizes. Well, of course, who doen't like winning free stuff? So—just in case you were wondering—yes, we do plan to have daily drawings for door prizes. We are working to have a variety of kits and other items from various companies and vendors. So far we have received donations from Walthers, Broadway Limited Imports, Rapido Trains, Kadee, Daylight Printing, Model Railroad Control Systems, The Western Depot, Railroad Hobbies Inc., and Packratt Toys & Trains. We encourage you to visit their websites (see the Links page) and view/purchase their fine products.
PCR Annual Meetings
PCR Board of Directors meeting will be Thursday from 1:00 to 3:00pm. It will be held in the Tribute Room of the Marriott Fairfield Inn which is next door (same property) as the Courtyard convention hotel. All PCR members are welcome to attend.
The PCR Annual Business Meeting will on Sunday, April 30. Time and location still TBA. We need a minimum of 35 members in attendance to have a quorum. Please plan to attend.