Layout Tours
Coordinator
Paul Deis
---
Due to Rails by the Bay being virtual, we will have online video layout tours of the finest layouts in the San Francisco Bay Area for your viewing enjoyment with no driving needed! The Bay Area is home to many premier world-class model railroads you've been reading about in the model railroad press for years. Click the layout name below to view the video layout tour or other presentation.
Q&A Sessions
In addition to the video layout tours, we will also have live moderated Q&A sessions with layout owners where you will be able to ask them questions and learn from them. Most content will be recorded and available for playback for a period of two weeks after the original live presentation.
Video Layout Tours
We suggest viewing the layout tour videos
before the convention

to more fully appreciate the layout owner Q&A sessions.

Click the link under the layout owner's name to watch the video.
Here's the current (as of ) list of layouts that have online videos you can view to whet your appetite for what is to come in July. More will be added, so please check back here and the News & Updates page frequently.
---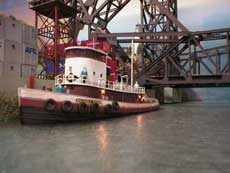 ACCRS or "the Pleasanton Club" is located on the Alameda County Fairgrounds in a 100' x 35' building. The club has two layouts separated by a central viewing aisle allowing viewing of both the O scale and HO scale layouts simultaneously. Both scales are designed to operate either with analog or NCE DCC control. The O scale layout has standard gauge, narrow gauge and trolley operations. The standard gauge only HO layout includes an operating thunderstorm, a drive-in movie, and a port with a 3 foot long scratch built container ship.
Website: accrs.org
Back to QwikLinks
---
This railroad is a freelanced two-headed branch line out of Chama, New Mexico on the D&RGW's Fourth Division narrow gauge line. Durlin is one of the branch terminals, with industries representative of those in Silverton, Colorado, and Flint is the other branch terminal serving a coal mine based on the big CF&I breaker at Floresta, Colorado. Durango, and other points west of Chama are represented by staging, as is Alamosa and other points east of Chama. Prototype scenes include Chama, Cresco, Toltec Tunnel, and Navajo.
An 18' x 27' room houses the layout which is a partial double-deck design. Trackwork is 100% complete, the scenery is 96% complete and only one major structure remains to be built (meanwhile the foam core mock-up works fine). 97% of the rolling stock is kit or scratch built, steam locomotives are primarily brass which have all been remotored/regeared/detailed/painted with primarily Soundtraxx decoders installed. Locomotive control is a CVP Easy DCC system with CVP wireless Ops throttles.
Articles in Model Railroader (Jan 2000), Finescale Railroader, Narrow Gauge Annual (2003), Model Railroad Hobbyist (April 2011), and most recently Narrow Gauge & Short Line Gazette (March/April 2021).
More photos and information on the BayRails website.
Back to QwikLinks
---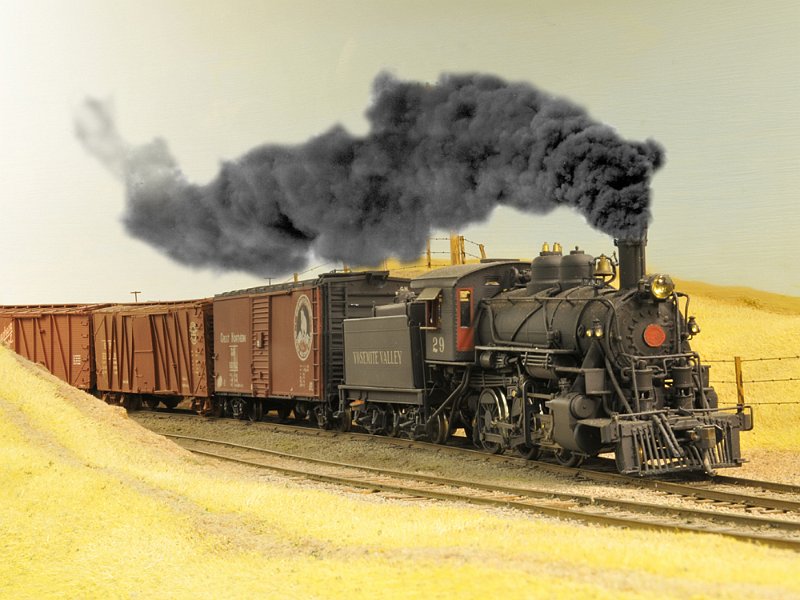 The layout duplicates the prototype Yosemite Valley Railroad in August 1939. The layout features handlaid track and turnouts with slow-action motors (some with working switchstands) and NCE radio-controlled DCC throttles with SoundTraxx decoders in all locomotives. All of the locomotives and equipment are correct for 1939. Scenery is 100% complete and duplicates prototype topography and vegetation. There are approximately 100 scratch-built structures on the layout, all of which duplicate actual buildings on the prototype. Rolling stock is a combination of scratch-built models and prototypically-correct resin and styrene kits. Operation is via TT/TO using prototype-based forms.
The operating style is prototypical, and tightly structured reflecting 1939 practices, i.e., little or no non-prototype talking, etc. On the other hand, the prototype involved a lot of waiting so, while the fast clock ratio is high, there is plenty of time for switching and getting the job done. Operations include 2 through freights and two locals operating at scale speeds (typically 15 mph) involving several meets.
Train control is by North Coast DCC with wireless throttles and Soundtraxx decoders, party-line telephone, TT&TO, 8:1 fast clock, switchlists, documentation includes employee timetable, fascia labeling, and orientation.
Jack's Yosemite Valley Railroad has been featured in numerous magazine articles. The most recent article is in the April issue of Railroad Model Craftsman.
Website: yosemitevalleyrr.com
More photos and information on the BayRails website.
Back to QwikLinks
---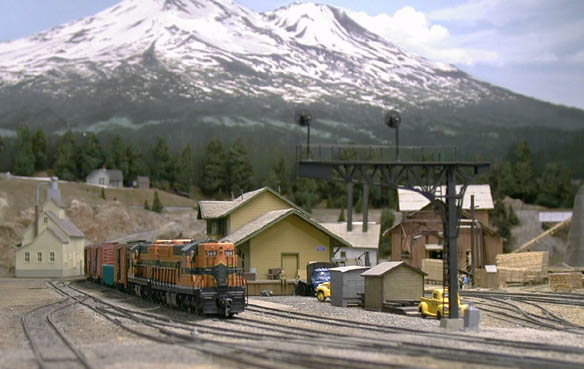 An HO and HOn3 club layout located in the historic Agnew Depot, built for the narrow gauge South Pacific Coast Railroad in 1877. Transition-era operations includes both steam and diesel, and dispatching is done differently according to the era.
The 1,000 feet of double-track mainline represents California connections to the Pacific Northwest, Southeast, and East. Fully scenicked with backdrops painted by Mike Kotowski. There is a small dual-gauge branchline. The layout has been featured in Model Railroader and Railroad Model Craftsman.
Website: calcentralmrc.org
Back to QwikLinks
---
Double-deck proto-lanced railroad depicting West Coast steam in the 1950s. Scenes along the line are taken from the Sierra, Southern Pacific, Western Pacific, Hetch Hetchy, and Yosemite Valley railroads. Operations based track plan with inventive staging and helix design. Layout features lots of superdetailed and weathered rolling stock. Hardshell is 80% complete, overall scenery completion is 40%. Duckunder at 60". Control is by CVP DCC.
Website: thewilloughbyline.com/
Back to QwikLinks
---
This HO layout loosely models the area from Oakland, California to Sparks, Nevada, which is a segment of the route of the old Southern Pacific Railroad portion of the original Transcontinental Railroad. The timeframe is from the 1950s to the present, thus allowing both steam and diesel locomotives to be operated.
The majority of the layout is a double-track mainline, constructed in three levels with two large helixes on opposite corners of the layout to provide a connection between levels. The layout is a "mushroom-style" with a narrow, but long tabletop space that is stacked like bunk beds. An elevated walkway allows access to the top level. This design provides the most linear track space without having the tracks unrealistically twist back and forth. Code 100 track is used on the 1st level and helixes only, and code 83 track is used on the rest of the layout. The nominal minimum track radius is 48 inches. Maximum 2% grade is found on the helixes.
Website: cmrstrainclub.org/
Back to QwikLinks
---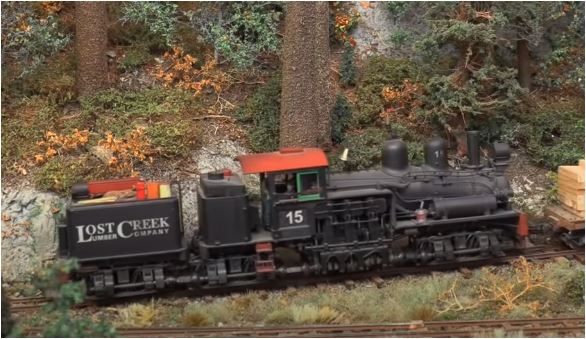 Paul Claffey's Lost Creek bi-level layout was built over the course of about thirteen years. The top deck has scenery around two thirds of it, and it's amazing. This freelanced layout was built for operations.
Paul gives us a look at what operations on his layout are like over the finished portion of the layout, then gives us a brief look at the rest of the unfinished parts. Paul's attention to detail and scratch-building skills are sure to impress even the pickiest modelers.
Join us for a tour of this layout, as it was scheduled to be dismantled within weeks after the video was made.
Back to QwikLinks
---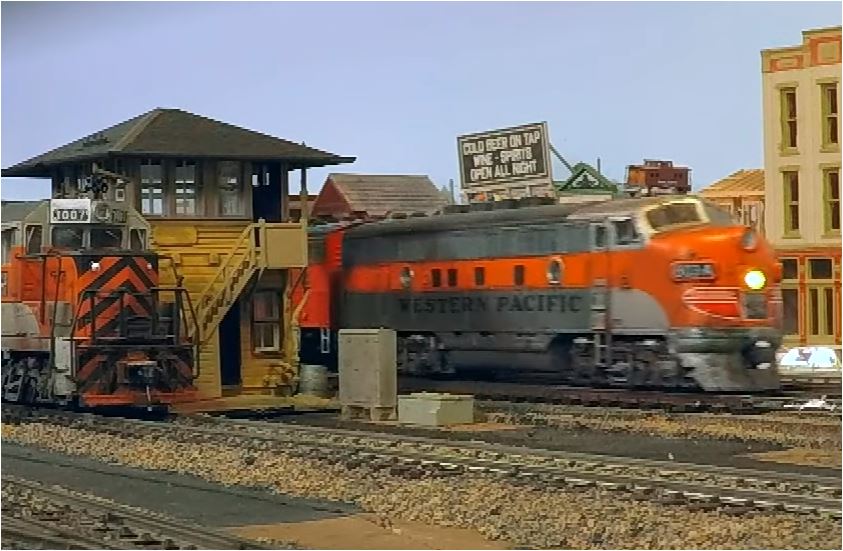 Proto-freelanced 1970s era. WP from Eugene, OR to Klamath Falls, OR. Heavy mainline, WP w/SP trackage rights, BN, Santa Fe run through trains. 280 ft. double decked mainline in an L-shaped, 22' X 34' room. Track-work 90% complete, scenery 10% complete with some structures. Track Warrants Operations. Car Cards and Way Bills control car forwarding. NCE wireless DCC.
Back to QwikLinks
---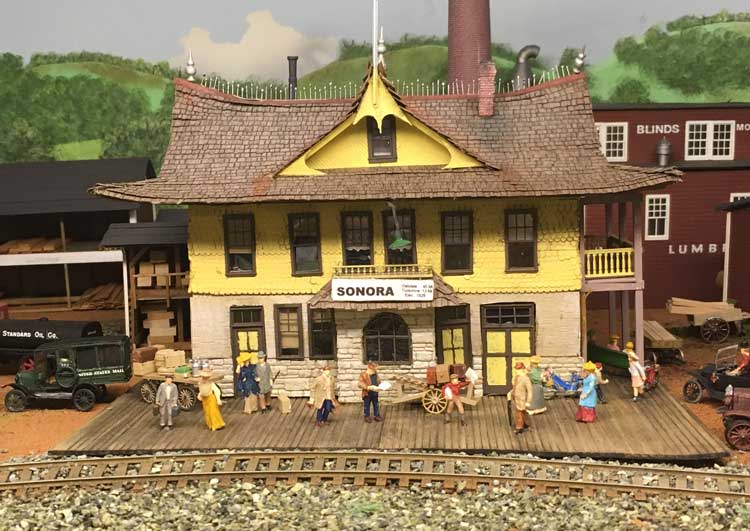 The SC&T is a two-level 10' x 17' layout (Virginia & Truckee on the upper level and Sierra Rwy. on the lower level) connected by helixes. Interchanges with HOn3 West Side Lumber Co.(lower level) and Carson & Colorado (upper level). All of this is in half of a single car garage.The scenery is basically complete. All prototype equipment is appropriate for 1929 with numerous scratch-built prototype structures.
Dave's layouts have been featured in Railroad Model Craftsman, May 2000, and Model Railroader, May 2004.
P.S. The layout was dismantled shortly after the TSG video was completed.
Back to QwikLinks
---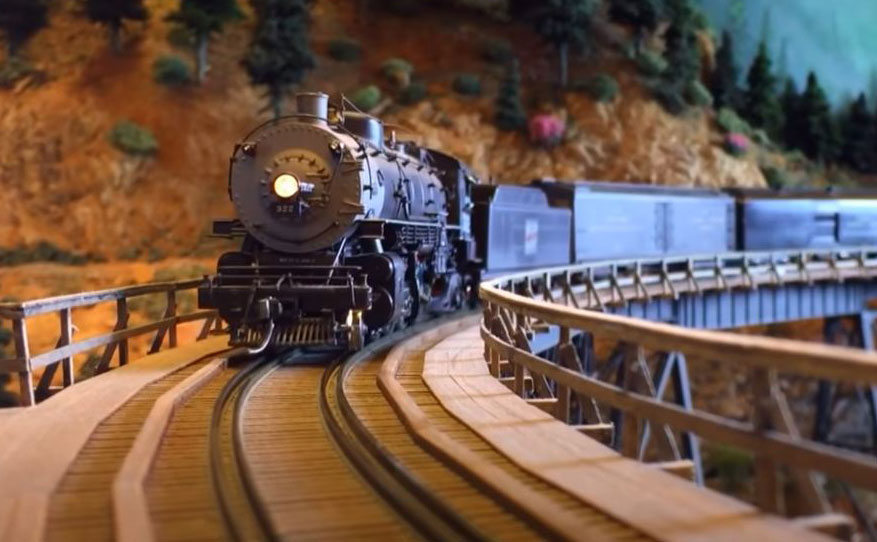 A beautiful re-creation in HO scale of the Western Pacific RR in the Spring of 1938. The area of the WP modeled is along the Feather River, including the Keddie Wye and a small logging area. The fidelity to prototype of the scenery has been praised by former WP employees, who readily recognize the scenes.
An interesting touch is the many sound modules included in the many detailed scenes. The layout has been featured in Railroad Model Craftsman June 1996, July 2000, March 2011, Railmodel Journal May 2000, Model Railroader September 2001 and Model Railroad Hobbyist May-June 2010.
System One/NCE DCC control (many locos are sound-equipped), pre-prepared switchlists, sequence timetable, verbal communications, no formal Dispatcher role, written instructional handouts for each job includes layout schematic.
More photos and information on the BayRails website.
Back to QwikLinks
---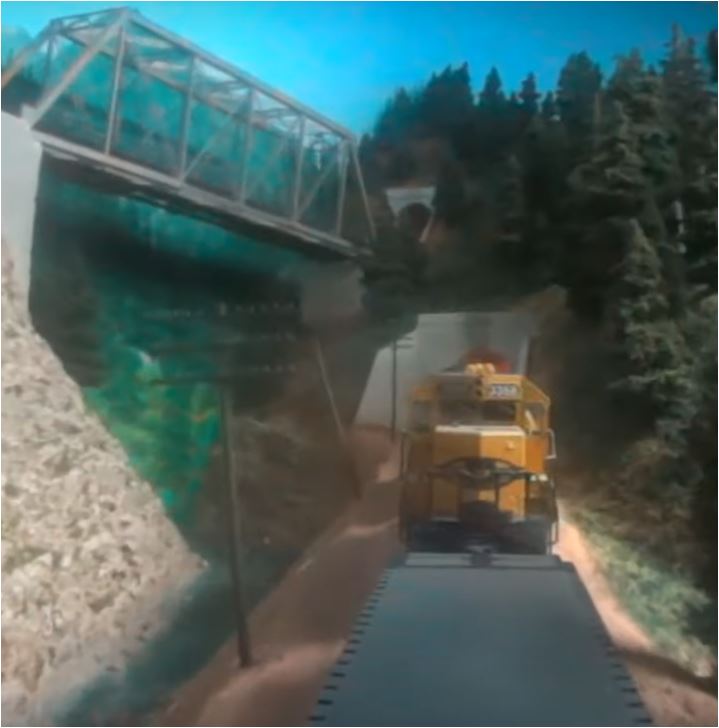 Proto-freelanced extension of the Santa Fe in the early 1970s north from the San Francisco Bay Area to Portland, OR. The modeled portion runs from the Central Valley town of Chico to McCloud, just south of Mount. Shasta in a purpose-built 25' x 47' room. The layout is a double-deck point-to-point, with 410 feet of mainline trackage, 50% scenicked, and the mainline 90% complete. Operations include a dispatcher, an interlocking tower, a large yard with two switch crews and a hostler, a small yard with a full-time switcher, heavy-duty mainline freight action with some passenger, local switching, and a branchline. All permanent track is all hand-laid. Operations are purposeful, in a relatively disciplined but casual atmosphere.
Train control is by NCE DCC with wireless throttles, FRS radios, and intercom, Track Warrants, real-time, sequence operations, car cards and waybills. Operators will appreciate fascia-mounted track diagrams, station names, mileposts, clipboards with train instructions, and track diagrams.
Signals are currently being installed for future CTC dispatching. Several of the sidings and junctions now have operational US&S R2 signals that are temporarily providing turnout position indication until Rick's ex-Santa Fe CTC machine is put into service. A dispatcher's office has been constructed adjacent to, but completely isolated from the layout room.
Website: www.lwmweb.com/sw&sf/
More photos and information on the BayRails website.
Back to QwikLinks
---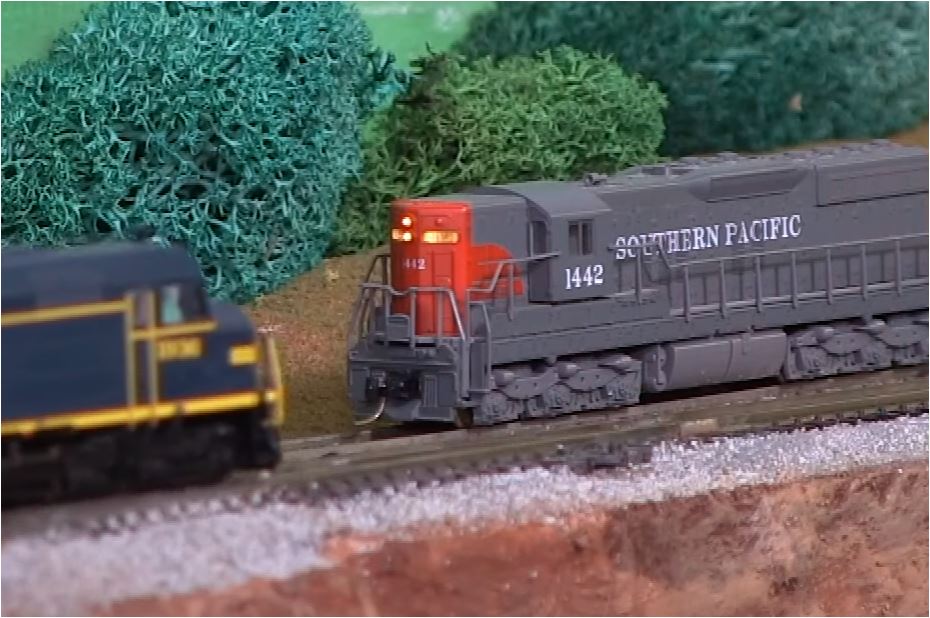 The Bull Horn Flats is a fictitious caboose-era proto-freelance layout with 8 switching areas, all with run-around tracks, as well as 14 passing sidings, 2 yards, 2 reversing loops, and 2 interchange tracks, with mostly freight and a passenger local. Turnouts are all hand thrown, simulating brakemen getting off and on locomotives to do work. Operations uses car cards and switch lists. The layout shows what could have been if the Santa Fe had gone south from Richmond to Fremont, California, and then east to nearby Altamont Pass. Control is by Digitrax DCC.
Back to QwikLinks
---
One of the larger private layouts we've toured, this massive HO Scale DCC-equipped model railroad layout is located in Twain Harte, CA. It's owned by Steve Hayes, who happens to also be the author of several books, including two about the Western Pacific.
The layout depicts the WP in 1965-69 from Oakland to Salt Lake City in an 1800 sq feet basement with 700 feet of single track mainline and 9 passing sidings. The layout is 70% scenicked with several prototype structures. This layout attempts to evoke a specific era and locations with some compromises to improve modeled operations. Operations are purposeful and include the California Zephyr and 20+ freight trains during a 4-hours operating session over a fully signaled mainline.
More photos and information on the BayRails website.
Website: steveswplayout.hayeswp.com/
Back to QwikLinks
---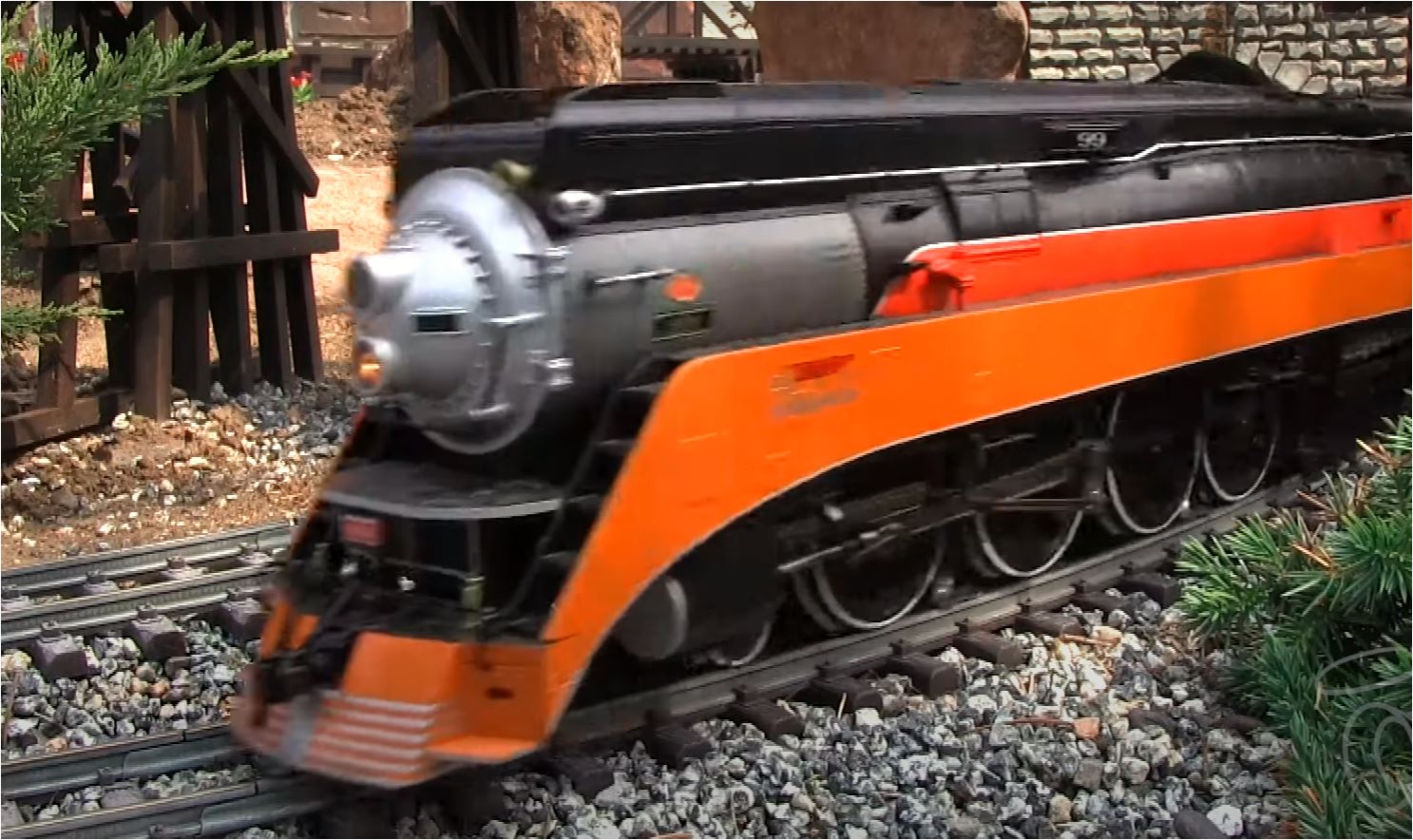 The San Benito Southern is located in Hollister and was built by Kevin and Curtis Hill. While the garden railroad is a centerpiece of the yard, so is some of the railroadiana in the yard. Not just historic relics, but in some cases, historic relics with very personal connections!
It's not just about locomotives and trains; combine a very nicely manicured garden layout with great equipment and lots of Disney historical elements and you get the San Benito Southern.
Back to QwikLinks
---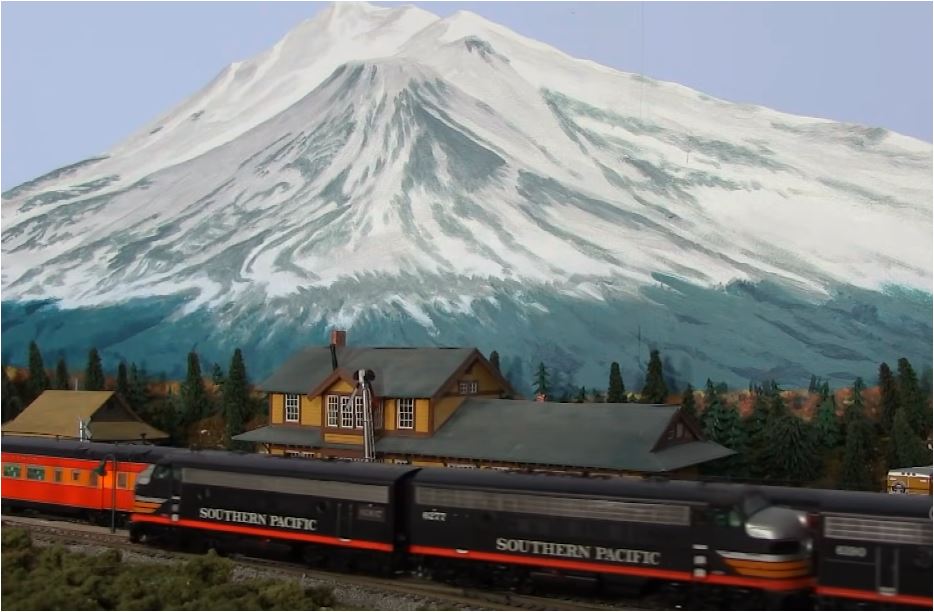 Most of us know Daylight Dave from the train shows. He had the booth with all the jackets, hats, shirts, and other railroad branded items. Did you know Dave is also a model railroader?
Join us for a look at Dave's Southern Pacific Rocklin Sub HO Scale layout, a freelanced version of the SP Donner and Shasta crossings, as well as the Coast Line and Burbank Branch in the 60s.
A walk-in basement in California is not very common, but this one was available (house included) and a dream has become a reality. At 11x55 feet in size, a completed (yes, you read that right!) double-deck freelance prototype layout. Emphasis is on operations with car cards, track warrants, long trains, and two-person crews. Digitrax DCC and sound in nearly every locomotive make the scene complete.
More photos and information on the BayRails website.
Back to QwikLinks
---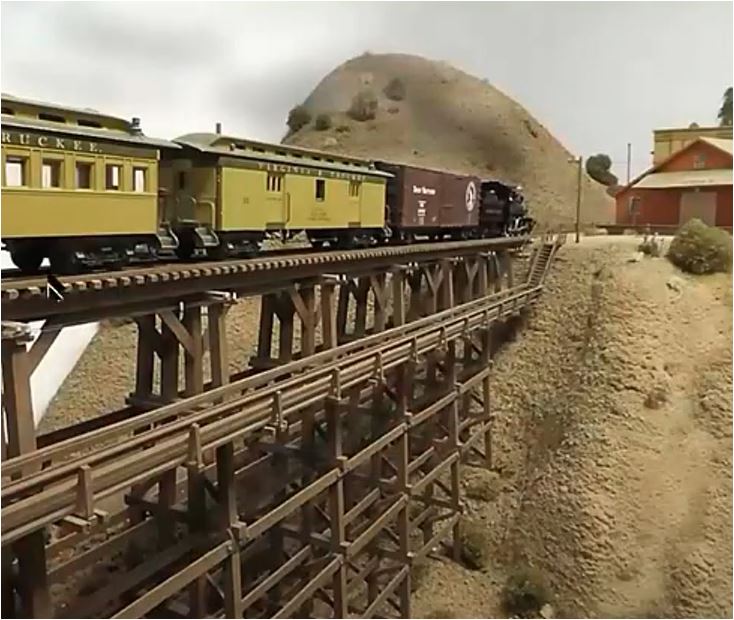 The 5' x 12' eye-level walk-in layout depicts the Virginia and Truckee Railroad's venerable line to the famous mining town of Virginia City, Nevada. Now reduced to a quiet western branch line, the layout depicts the declining mining district as it might have appeared in the mid-1930s. Virginia City, Gold Hill and the Crown Point trestle are featured highlights. The layout has many scratchbuilt and kitbashed historic structures and is finished with natural materials collected on-site in Nevada.
This layout is in an enclosed room constructed in a typical California garage. The layout was built as a demonstration project for the NMRA 2000 National Convention in San Jose. Control is DC with blocks.
Back to QwikLinks
---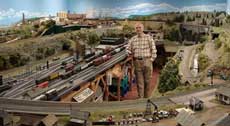 Over 300 feet of double-tracked mainline with working DTC/ABS signaling in both directions, working semaphores, wireless control panels for the main yard, working turntable, computerized remote dispatching, a working 1950s-era telephone system and about 90 SwitchMaster-powered turnouts. Primary scenic features of this 20' x 30' layout include a 6' tall waterfall, a cut stone viaduct over 10' long, rain storm with flashing lightning and loud thunder, a large deck truss bridge, Mike Kotowski's professionally-painted backdrop, dozens and dozens of beautiful pine trees and billions of grains of ballast.
Control by wireless NCE DCC, CMR/I, JMRI, and DC.
This is NOT your father's American Flyer train set. It is genuine S scale model railroading. Visitors are encouraged to run a train while here. It's more fun per minute than watching TV! Caution: Crawlunder to enter layout room.
Website: sscale.org/best-of-s/ed-loizeaux/
Back to QwikLinks
---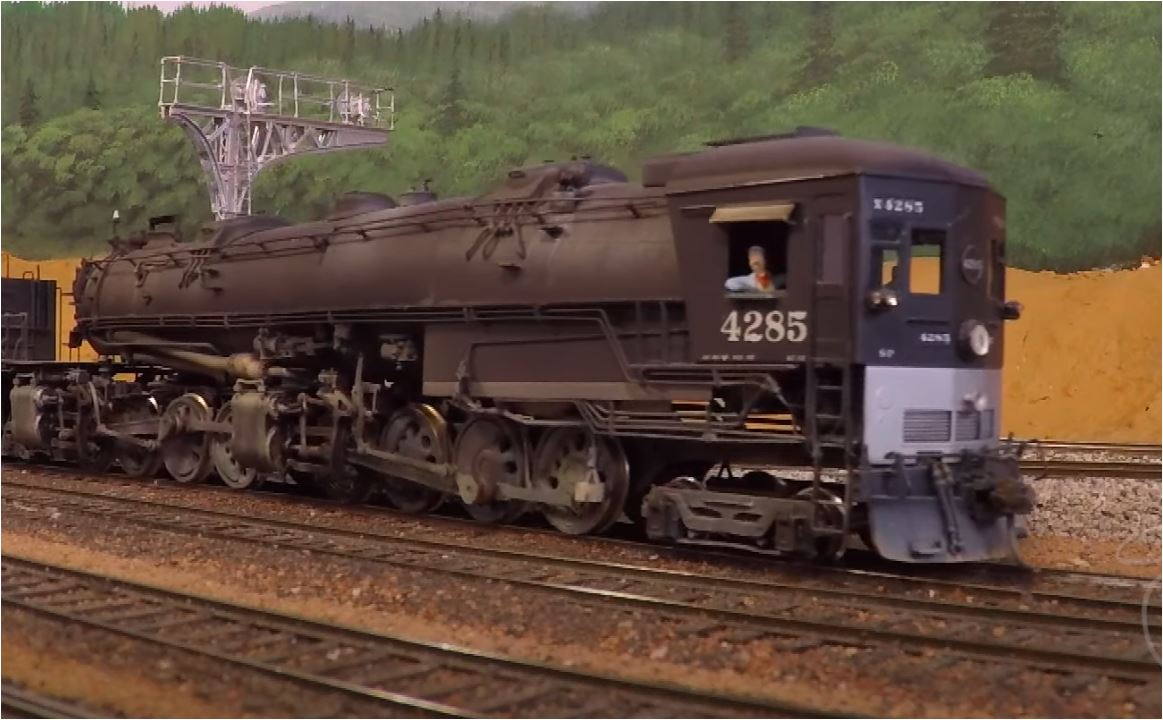 This double-decked, mushroom-style layout is a model of SP's storied Shasta Division from Redding, CA to Klamath Falls, OR, located in a purpose-built 1,200 sq ft loft in the Oakland Hills overlooking San Francisco Bay. The Shasta Division is the last large layout designed by the late and legendary John Armstrong. Operations follow the prototype using a modified 1952 prototype timetable & train orders and CTC. The layout is faithful to the prototype. Car forwarding is by "Thompson" waybills. Trackside maps document the switching areas, and train briefs are provided.
The original John Armstrong design was modified in significant respects, largely to achieve operational goals. For example, sidings and spurs were added or modified to add operational interest. Some trackage was eliminated to create more interesting, and lengthy runs between modeled towns. Most significantly, the capacity of the designed hidden staging yards at Redding and Klamath Falls was increased from 4 to 7 tracks. Additional staging tracks were added at Weed and lengthened from 8' to nearly 20'. And, additional tracks were installed at the visible lower Dunsmuir yard.
The track is ME rail on CVP tie strips with hand-laid turnouts, with nearly 400 feet of mainline trackage. Train control is via wireless NCE DCC. The layout is fully signaled from Redding to Black Butte (the CTC section) and ABS signaling is now being installed, per the prototype, from Black Butte to Klamath Falls. Computer interface is accomplished using C/MRI hardware and JMRI software. The tone of the layout is casual but purposeful.
The Shasta Division is 60% scenicked with painted backdrops from Redding to Dorris. Many key structures are in place or mocked up, giving the modeled scenes a sense of place For example, the Dunsmuir engine facility and city structures are complete and in place.
The layout accommodates 13 operators, including a yard crew of 3, two dispatchers (one CTC and one TT & TO), two TO operators, and road crews.
The SP Shasta Division is featured in Great Model Railroads 2011.
Website: www.spshastaroute.org/
More photos and information on the BayRails website.
Back to QwikLinks
---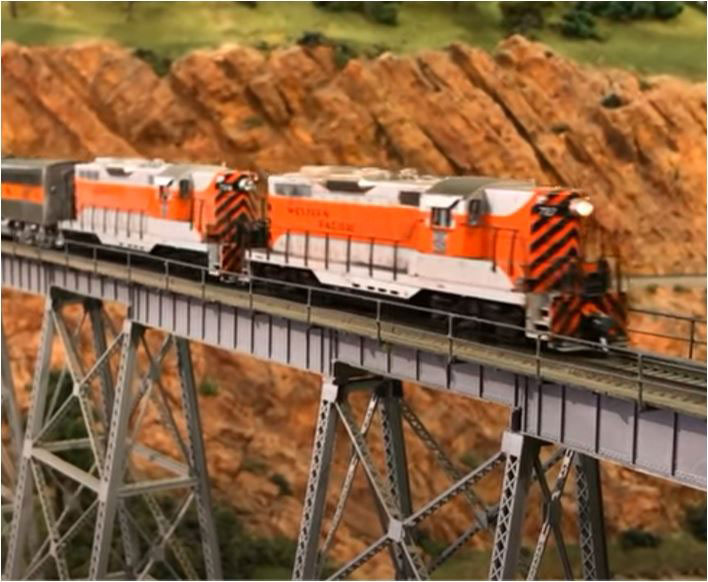 The Napa Valley Northern was a fictional line that ran from Stockton, CA to Portland, OR. The modeled portion of the line was based on a former Southern Pacific branchline from Napa, CA to Ukiah, CA. A hidden staging yard represented both Stockton and Portland.
The theme was a double-track to single-track class I railroad, set in the 1940s to the present time. Except for themed operating sessions, members could run equipment from any era.
Unfortunately, as this is being typed (3/28/21), the layout is in the process of being dismantled after the Society lost its four-year legal battle with landlord Napa Valley Expo Board and has been evicted from their clubhouse. Another Fallen Flag!
Website: nvmrc.org
Back to QwikLinks
---
The layout is set in the San Francisco East Bay Area in 1999. The railroad represents the former Western Pacific 1st and San Jose Subdivisions, which had become the UP Niles, Oakland, and Milpitas Subdivisions in the era modeled. The railroad is a secondary main and a branchline that supports an Auto plant (NUMMI) and a number of smaller industries. The layout is about 95% scenicked.
The single-level layout is built in a 450 sqft purpose-built room. Dispatching is by TCS (using CATS) which replicates a Digicon console. Signal control is by CMRInet, including cpNodes made by Seth's company, Model Railroad Control Systems. All signals are repeated as color lite signals on repeaters above the layout. There is a complete writeup of the layout in Volume 52 of the Layout Design Journal, the publication of the Layout Design Special Interest Group, and a cover story in Railroad Model Craftsman, January 2018.
A unique feature of the layout is that there is no yardmaster, only a Clerk. This is because the prototype Milpitas Yard had no permanent switcher. The Clerk is assisted by a working RFID reader which prints "tracklists" of cars in order as a switch job pulls cuts over the reader. The RFID system appeared in Modeler Railroader, December 2014, page 46. The clerk is responsible for managing the yard and the neighboring NUMMI complex by writing switchlists to instruct the crews where to place cars. All crews do their own work when passing through the yard.
A typical session runs about 5 hours and uses 8 operators. Jobs include Dispatcher, Clerk, NUMMI Job (2 crew, 2 shifts), UP LRV54 Local, BNSF trackage rights local, and the Mission Bay local which includes a utility job called "The Critter Wrangler".
Contol is by NCE DCC with wireless throttles, FRS Radios, 2:1 fast clock, and switchlists. All mainline engines have sound decoders. Uncoupling is 100% manual using pics.
More photos and information on the BayRails website.
Back to QwikLinks
---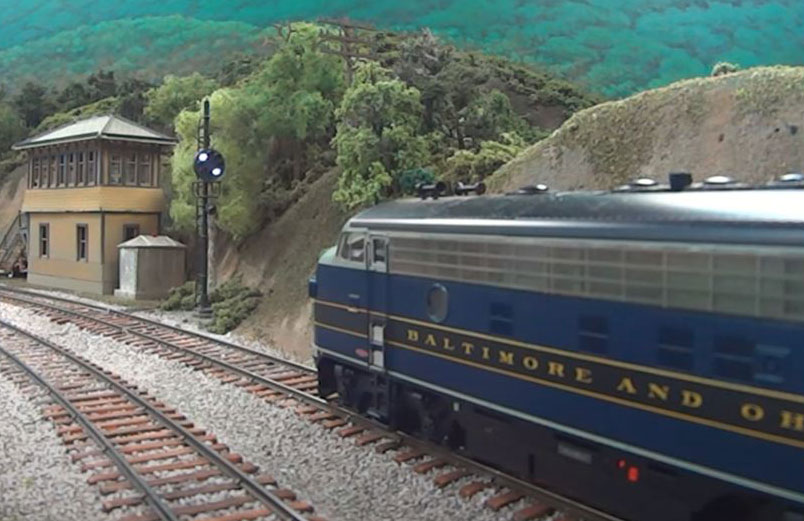 David's Cumberland West models the Western Maryland and Baltimore &Ohio railroads in the vicinity of Cumberland, Maryland in 1953. The layout is a single layer in a 1200 sq. ft. room with Mole staging. The backdrop, scenery, and bridges are mostly complete. Coal is the local focus. Both railroads have a Dispatcher, Stage Manager, and Coal Manager. The Coal Manager works with the Dispatcher to regulate coal loads and empty hopper traffic. An operating session focuses on one railroad with the other sometimes offering moving scenery.
The B&O includes the junction of the Pittsburgh and Cumberland Divisions and part of the West End Sub. The B&O is double-track main with "Current of Traffic" rules using B&O 9-aspect Color Position Lights (CPL) signals. Five Tower Operators control interlocking sections. They use computer touch-screens to manipulate switches and signals with pseudo-Standard Signal graphics. The B&O has many named passenger trains and some passenger switching in Cumberland. B&O coal mines are off-line. Operations center on the Keyser coal switching yard and a small manifest yard.
The Western Maryland includes the junction in Cumberland, along with parts of the Thomas and Connellsville Subs. The WM is a single track with many on-line mines and uses timetable and train orders. Only a single passenger train is scheduled. Most station operator positions are unmanned and the train crews communicate with the dispatcher. WM local activity is dominated by local coal mines.
Both railroads are bridge lines with an abundance of through manifest traffic. Each railroad is operated independently of the other, except for interchanges and minor trackage rights.
NCE-DCC is used for train control while a separate Loconet controls signals and accessories. Stage routing is controlled via computer screens. Car forwarding uses car cards and waybills for manifest freights. Coal and empty hoppers use multi-car coal orders. Communications is via a 1950s era 14-station multi-line phone system. Variable speed fast clock.
Website: borail.net/DPCW/
More photos and information on the BayRails website.
Back to QwikLinks
---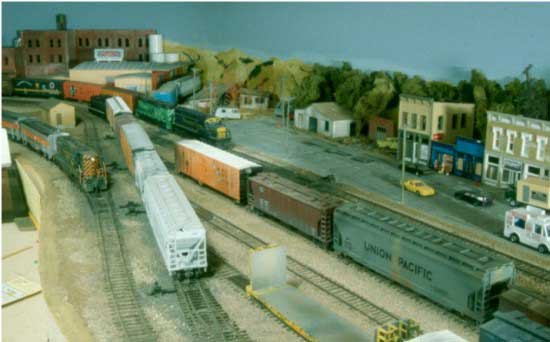 The Santa Cruz Northern is a proto-freelance WP/ATSF subsidiary over the California Coast Range in '70-71. It is double-deck, walkaround, point-to-point 270' long single track mainline, 90% scenicked, in a two-car garage. Operations closely adhere to prototype practices with through and local freights, a unit train, passenger operations, yard, and interchange. The Dispatcher works with two Agent/Operators, a Yardmaster, a Trainmaster, and train crews in a fairly disciplined but enjoyable atmosphere, replicating the teamwork inherent in railroading.
Control is by NCE DCC with wireless throttles, SoundTraxx decoders, telephone, TT&TO, 4:1 fast clock, car card and waybill / switchlist. Fascia mounted track diagrams, station names and mileposts, handouts describing layout and operating positions, and employee timetable.
The SCN has appeared as the subject of articles in Model Railroader, May 1996, Railroad Model Craftsman, November, December 2002, May 2010, and November 2011, Railmodel Journal, December 1999, and Allen Keller Great Model Railroads Volume #35.
More photos and information on the BayRails website.
Back to QwikLinks
---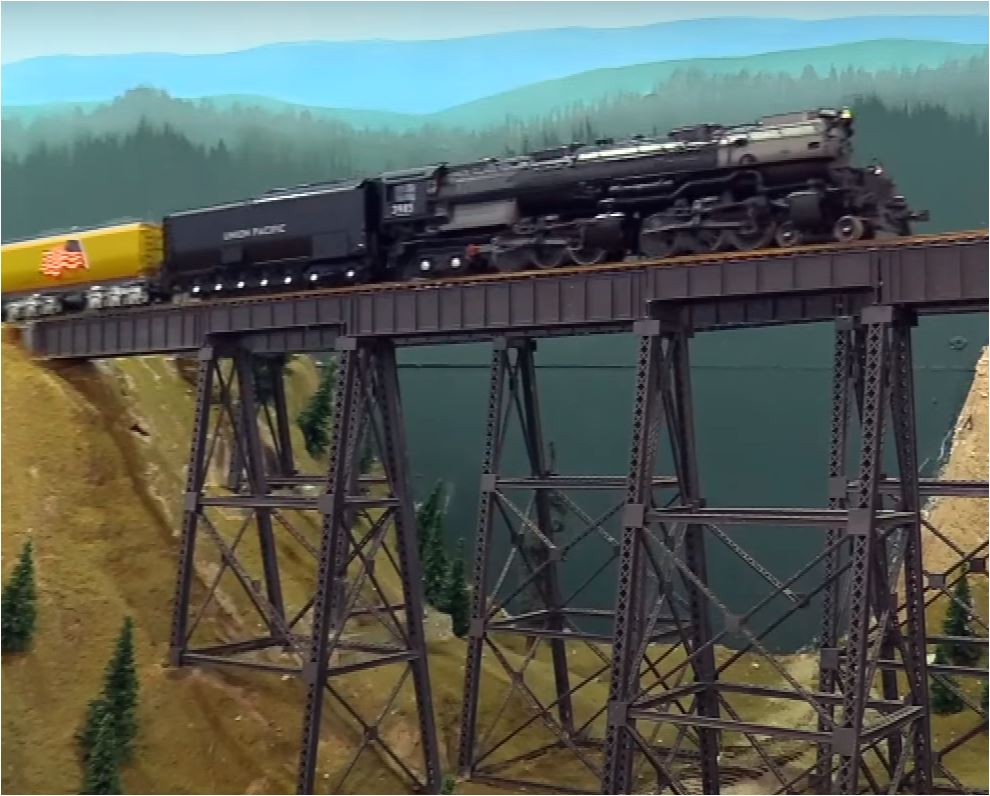 The San Leandro Historical Railway Society operates the historic 1898 Southern Pacific San Leandro Depot at Thrasher Park. Located in one room of the Depot is a railway museum and in the other room is the large HO scale display layout. This layout was designed by the legendary layout designer John Armstrong and was featured in the March 1998 Model Railroader magazine and depicts the Southern Pacific Railroad during the late steam to diesel transition era.
There are over 4,000 feet of track on 3 levels, dozens of switches, and miles of wiring that have been installed by SLHRS members. It takes about 45 minutes for a train to travel the entire length of the display at scale speed.
The HO scale display represents the Southern Pacific Overland Route from San Leandro, CA through a variety of cities along the way to Reno/Sparks, Nevada. This route can be followed today by taking Amtrak from Oakland to the station in Reno. Of special note, represented centrally in the display, is the icing platform in Roseville, CA that was used to supply the cars for the Pacific Fruit Express trains, the Alameda Mole, and the snowsheds of Donner Pass and Emigrant Gap.
Website: slhrs.org
Back to QwikLinks
---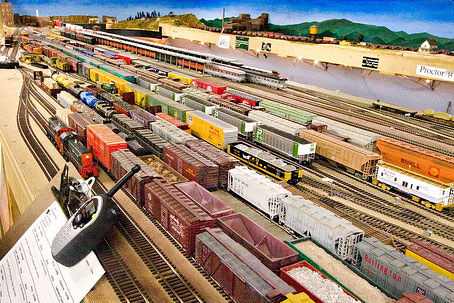 Founded in 1979, Silicon Valley Lines (SVL) is a freelance HO Scale Model Railroad Club located in San Jose, California. Construction of the current layout began in late 2000 and is located in the basement of an industrial building near downtown San Jose. The railroad occupies a 23' x 72' space and is a multi-level design built using commercial steel C-channel as a benchwork system with over 600 feet of mainline. The upper level is a single-track division, while much of the lower level is double-tracked. The layout features two large operating yards, as well as ample hidden, yet accessible staging.
Basic scenery is about 50% completed with painted backdrops and some key structures in place. Scenery construction, tuning operations, and refining the electrical control systems of the layout are now the top priorities for the club.
Realistic operation has always been a key focus in the SVL club. Throughout construction, members have been operating monthly on the layout to ensure that the railroad is built to create an enjoyable experience for our members and guests. Generous aisles provide ample space to support up to 8 simultaneous train crews and we are capable of running more than 25 trains on a good night.
Just like the former Southern Pacific, SVL utilizes Direct Traffic Control (DTC) to keep trains moving on the railroad. Crews use radios to obtain authority from a dispatcher, and engineers are given switch-lists that describe the work. Switch-lists for each session are generated using a new software system (Spar) developed by one of our members.
The club was an early adopter of command control, starting with the Keller Onboard system in the 1980s, and quickly transitioning to Digital Command Control in 1995. Layout control uses NCE DCC with support for both plug-in and wireless throttles, as well as WiFi-throttles using JMRI WiThrottle. Turnout control around the layout is done using touch screens. The dispatcher desk is integrated with that system as well and controls signals and turnouts remotely.
Website: siliconvalleylines.com
More photos and information on the BayRails website.
Back to QwikLinks
---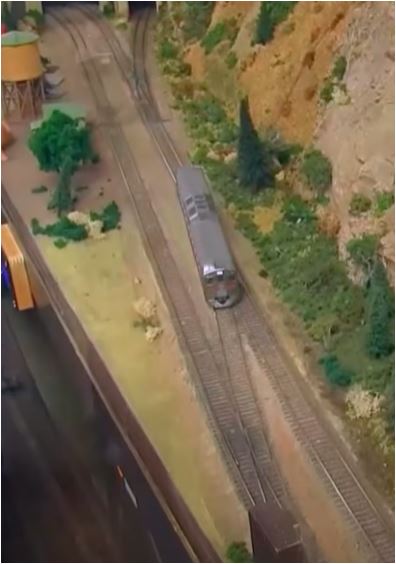 The SBHRS operates extensive HO and N-scale model displays, also known as "layouts," in the historic Santa Clara Depot (opened in 1863), across the street from Santa Clara University. Both layouts include extensive signaling. Like many model railroads, they are works in progress and are undergoing constant change.
Both layouts have many handcrafted scenes, such as a winery, dam, two helixes, row homes and a yacht harbor (N-scale) and meat packing, lumber mill, oil storage tanks, plus a replica of the San Jose Southern Pacific Depot, ca 1950 (HO-scale). Scenery is about 90% complete on both layouts. Handicapped access ramp on track side of depot. Control on both layouts is by Digitrax DCC.
Website: sbhrs.org
Back to QwikLinks
---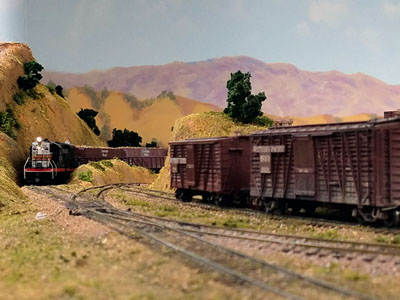 Featured in the January 2014 and November 2019 issues of Railroad Model Craftsman, the Morada Belt Railway is a freelanced HO railroad based in the West during the 1950s. Used by the four major carriers of the day (SP-WP-ATSF-UP) to reroute traffic when their lines are congested, the MB Ry also hosts a variety of trackage right carriers (usually two per session) so an occasional local freight from the Central California Traction Co. or, perhaps, the Milwaukee Road may make an appearance during an operating day.
Housed in a separate 20' x 28' building, the layout is constructed on both two and three levels, connected by three single-loop helixes (blended into the scenery) providing a grade not exceeding 2.5% with a minimum mainline radius of 30 inches. The railroad was designed as a point-to-loop railroad due to space limitations but is run as a point-to-point operation (Palisade/Stockton staging yard to Morada classification yard). A separate yard (Junction City) is used by trackage right carriers to interchange with the "big four". A branch line, plus a quarry, cement plant, produce district, and lumber mill, all located on the mainline, provide ample industry work for local freights dispatched from Morada Yard. The railroad is virtually completed with just a few structures to add.
Operating sessions require a train dispatcher (TWC-type train orders, transmitted by FRS radios), two yard engines at Morada Yard, one operator/switch engine at Junction City, and up to four mainline crews. Easy DCC is the control system and sessions normally last all day. All mainline and yard turnouts are Tortoise-powered, while branch line switches are push-pull using Blue Point machines.
More photos and information on the BayRails website.
Back to QwikLinks
---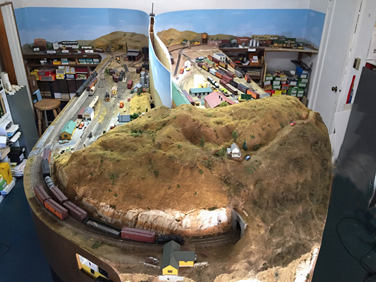 The layout is set in the Central Coast area of California in 1953 and represents a mythical branch line. The branch is primarily a switching challenge and hosts numerous industries typical of the area and era.
The layout is T-shaped, with both legs of the Tee about 15 feet in length. The town of Shumala is the junction of the branch with SP's main line of the Coast Route. An intermediate town on the branch is Ballard, and at the seaside, the branch ends at Santa Rosalia (rose-uh-LEE-uh). Nearly all track is installed, most structures are in place, and about 80 percent of scenery is complete.
Locomotives are a mixture of steam and diesel, all with DCC and sound, and control is via NCE wireless throttles. Most turnouts on the layout are hand-thrown. There is no clock, and crews simply work to complete the switching needs of the area they are working.
Freight cars are a particular interest here, so most cars operating on the layout are models of specific cars and prototypes for the era. Special interest attaches to both refrigerator cars and tank cars, and usually, there are a fair number of both car types in any particular session.
A prototype-inspired waybill system has been devised for the layout, which has been described as it evolved in Railroad Model Craftsman, in December 2009, The Dispatcher's Office (OpSIG's magazine), in April 2010, October 2011, and October 2016, and in Model Railroad Hobbyist (May 2012). Considerable discussion of the development and use of these waybills has been written up in Tony's blog, Modeling the SP, which can be found at modelingthesp.blogspot.com.
Normal operating patterns employ two two-person crews to work on each side of the layout. The timetable contains maps of each town. A mainline local also operates, to pick up and set out the branch line's cars at the junction.
More photos and information on the BayRails website.
Back to QwikLinks
---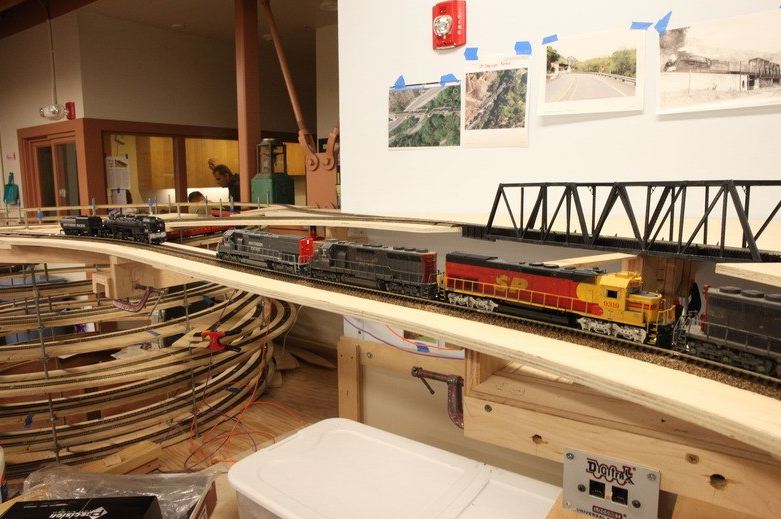 The Niles Passenger and Freight Depots, located in the Niles District of Fremont, California, are home to a railroad museum and two all-new model railroad layouts, which are currently under construction.The layouts are based in Niles and the surrounding communities of the Bay Area. Attention is being given to accuracy and detail in both the track plans and surrounding scenery. The modeling era is the mid-1970s, but all industries and towns are being represented as they were in their prime.
The HO scale layout features the Southern Pacific mainline from Niles to San Jose with the many industries in Niles, Newark, Union City, and other intermediate communities, as well as both Southern Pacific and Western Pacific lines through Niles Canyon to Pleasanton and Livermore. San Jose Cahill St. Station is featured as the model railroad's large passenger terminal. A section will also feature the BART line through Fremont.
The N scale layout features the SP and WP mainlines from Niles to Oakland with intermediate communities such as Decoto, Alvarado, and Hayward.
Website: www.nilesdepot.org/niles/modelrailroads.html
Back to QwikLinks
---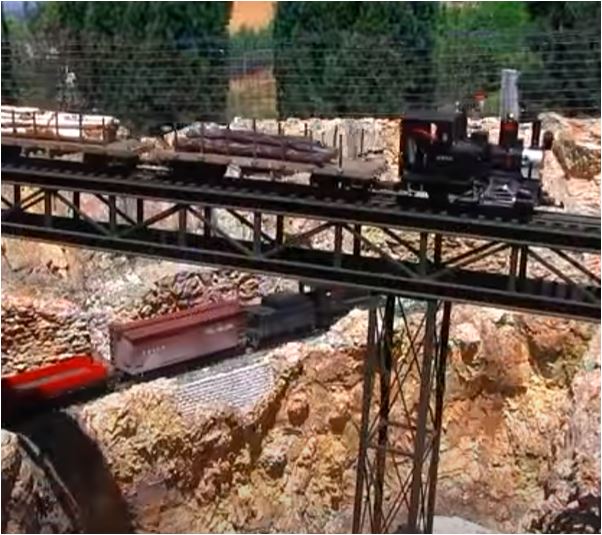 The Mystic Mountain Railroad is a backcountry short line, loosely set in the early 1900s, consisting of 1200' of code 250 nickel silver track. The railroad can be run as a single large loop or two smaller loops, with several passing sidings. There are two small yards, 22 spurs, two wyes for turning trains, and many tunnels and bridges. The Mountain Division runs over rugged mountains and deep canyons, necessitating many steel bridges, tunnels, and a large helix.
A scratch-built turntable/roundhouse facility is located at the North End yard in the Mountain Division. Trains can also be run point-to-point between the two yards for realistic operating sessions. Trains are battery-powered radio-controlled using Revolution and Train Engineer with SoundTraxx sound systems.
The most recent additions are the 5½' long Global Wizard Mfg. (G-Wiz), the sawmill complex, the Acme manufacturing plant ("Everything for the wily coyote"), and the wharf and Mercury Cannery Co. at North End. The scratch-built 4M Mining Company ("One better than 3M") is cast concrete and weighs 120 lbs. One unique feature is the use of concrete rock wall castings painted with acrylics.
A panoramic view of Silicon Valley serves as a natural "backdrop" to the railroad. Another unique feature is a 4-way pointless/frogless turnout for access to train storage. A separate whimsical fairy garden with its own Fairy Train will also be on display. Both railroads are lit for night time operation.
Website: www.mysticmountainarts.com/MMRR/
Back to QwikLinks
---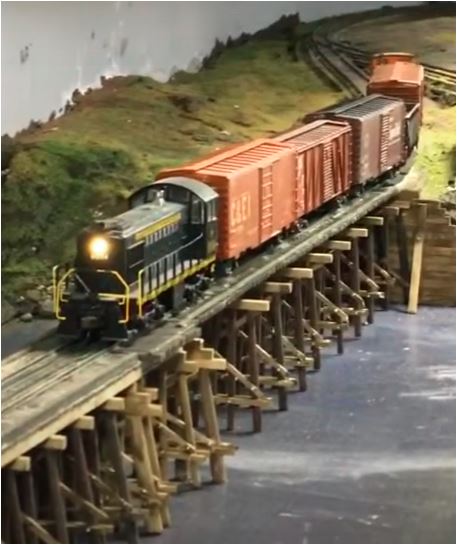 The CVRR in Northern California project began when a building for this purpose was acquired in 2016. The vintage building was originally a kerosene dealer served by the Northwestern Pacific Railroad and (while its spur is gone) it sits alongside the right of way which now also hosts SMART commuter rail service. The building is slightly more than 30' x 40' and is entirely dedicated to building an operations-based model railroad, using the Central Vermont Southern Division as a prototype, circa 1956.
To take advantage of the building's interior ceiling height of more than 12 feet, we designed a double-deck layout and raised the layout, and operator aisles by approximately 3 feet. The result is that the benchwork is a normal height for operators standing in the elevated aisle but 6 feet above the floor of the building, allowing us to put full-height access aisles and comfortable agent offices under the layout itself.
The around-the-wall helix scheme allows approximately 650 feet of mainline. Our biggest yard in East New London, Connecticut, is approximately 80 feet total length. We greatly emphasized design features to maximize operator comforts, such as no bottlenecks in the aisles and no duckunders anywhere. Visitors enter under the full height mainline span and then step comfortably up to the operating aisles.
The CVRR Southern Division ran from New London, CT, a busy port city, northward to rural Connecticut and then across the state line to Massachusetts. The prototype continued to Vermont and connected to the parent company Canadian National at the international border. We have included most of the important towns along the line in Connecticut and on into Massachusetts; our last major town is Palmer, MA, where the line interchanges with the Boston and Albany mainline between New York and Boston. The railroad is operationally interesting, as there is a great deal of local switching and some hot trains, including daily newsprint trains from Canada for newspapers in the Northeast.
We chose to model 1956 as steam was still alive on the CV at that time. Also, the area has compelling scenic beauty as it gets more rural heading northward, but will also boast the dynamic port and urban scenes at the southern end.
We are building toward being able to enjoy large TT&TO operating sessions staffed by 12-15 operators and staffers. We are emphasizing very high reliability and craftsmanship.
Featured: NMRA Magazine, January 2021
Website: www.cvrailroad.com
More photos and information on the BayRails website.
Back to QwikLinks
---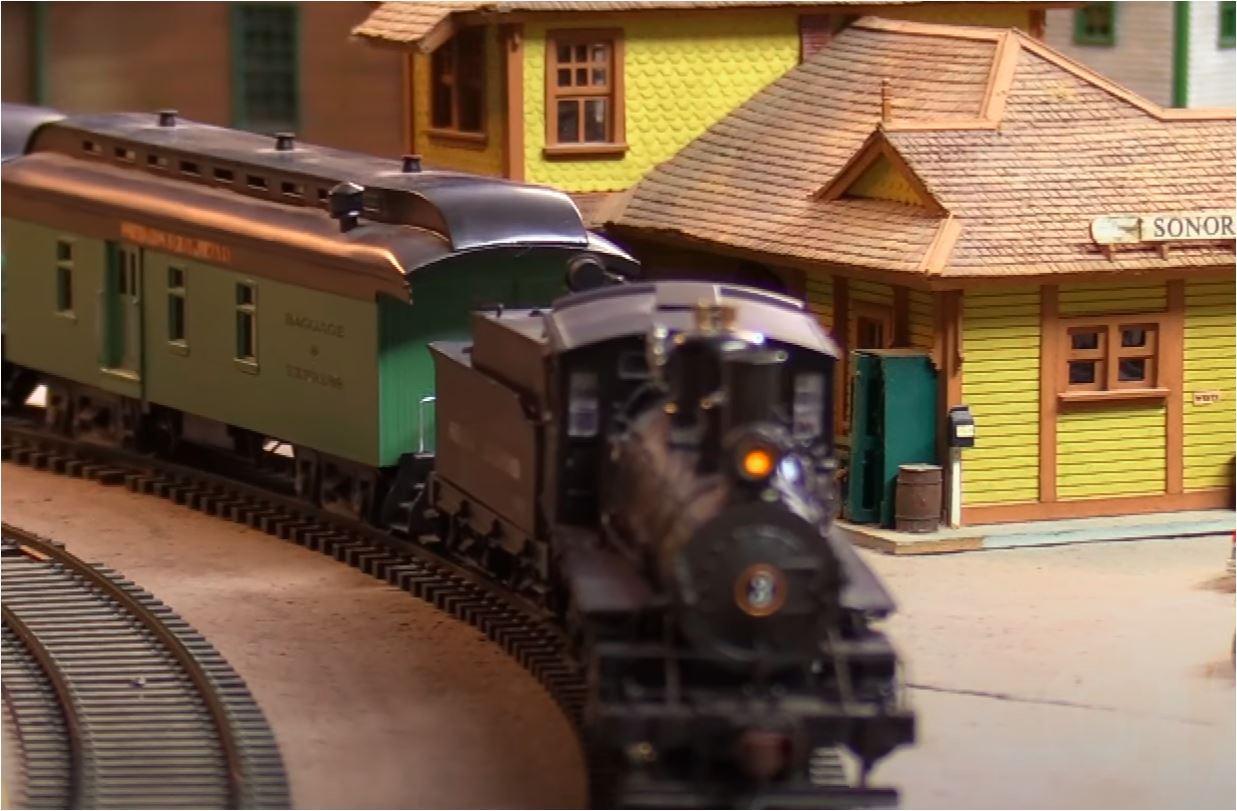 This HO scale model railroad is based on the Sierra Railroad that started its long and glorious history in 1897 and is still in operation today. The time frame for the layout is the Spring of 1955 when the first diesel locomotives (Baldwin S-12s) arrive on the railroad and the logging railroads of the Pickering and West Side Lumber Company were still going strong.
The layout is situated in a 1,500 square foot basement and from the SP Depot in Oakdale to the Sierra Depot in Tuolumne the Sierra mainline is 10.5 scale miles long. The trains are controlled by CVP's EasyDCC with 8 tethered throttles and 8 radio throttles. The majority of the track is Walther's Code 83 track and turnouts with Code 70 track used on the logging lines. Except for about 9 Tortoise Switch Machines, all turnouts are Caboose Industries ground throws.
In addition to the logging railroads, the Hetch Hetchy Railroad is represented at Hetch Hetchy Jct with its wye and its mainline heading off to Groveland and a staging track. Running through Oakdale is the SP Eastside Branch running from Stockton south through Oakdale to Merced. Stockton and Merced are the major staging yards of the layout that feeds cars to the Sierra and receives cars from the Sierra. Also running into Oakdale is the AT&SF branch from Riverbank, which also feeds cars to the Sierra and receives cars from the Sierra.
More photos and information on the BayRails website.
Website: www.sierrarailroad55.com
Back to QwikLinks
---
Videos used with permission of John Abatecola, YouTube TSG Multimedia channel.
---
Paul Deis
Layout Tours Coordinator
This page last updated: