FRESNO FUN FACTS
Interesting Facts About the City and County of Fresno
Fresno County, once a dry desert, was discovered during a search for suitable mission sites. In 1846, this area became the property of the United States as a result of the Mexican War. After gold was discovered in California in 1849, miners flocked to the foothill areas of the San Joaquin River.
Fresno County was created in 1856, with the foothill community of Millerton as the county seat, now beneath the water of Millerton Lake. The county comprised its current area and all of what became Madera County and parts of what are today San Benito, Tulare, Kings, Inyo, and Mono counties.
With the development of a railroad line through the valley, the town of Fresno was created in 1872. It took its name from the ash trees native to the valley (Fresno is the Spanish word for "ash tree").
Fresno's first building is rumored to be the Southern Pacific Depot, at Tulare and H Streets in downtown, built in 1888 and still stands today!
Fresno grew rapidly, but still remained in many ways a typical frontier town. Saloons could be found on every corner, but the first church was not established until 1876. The town burned down several times. A massive flood in 1884 finally convinced residents that a centralized city government was necessary. On Oct. 12, 1885, Fresno was incorporated.
Moses Church developed the first canals, called "church ditches," for irrigation. These canals transformed the barren desert of Fresno County into rich soil, thus enabling extensive wheat farming in Fresno County.
Frances Eisen, father of the wine industry in Fresno County, began the raisin industry in 1875 when he accidentally let some of his grapes dry on the vine. A.Y. Easterby and Clovis Cole developed extensive grain and cattle ranches. These and other citizens laid the groundwork for the cultivation of Fresno County, a leading acricultural region in the nation.
The first lumber mill was built in 1852 and was followed throughout the 1800s by 23 others. Flumes, some measuring more than 50 miles in length, were built by lumber companies to transport the logs from the mills in the mountains to the Valley floor.
Gold, petroleum, and copper also were discovered in Fresno County in the 1800s, and the western part of the county became well known for its oil and coal production.
Fresno County's first orange tree was planted in Centerville in 1866. Mr. & Mrs. Gabriel Moore, who were once slaves, planted the first apple and fig orchards.
To date more than 30 structures in Fresno County are on the National Register of Historic Places, including the Old Fresno Water Tower, which once held more than 250,000 gallons of water for the City of Fresno (You may remember the water tower from "Fresno: The Mini-series," where it was used as a primary location). The Thomas R. Meux Home, Kearney Mansion, and the Santa Fe Railroad Depot are also found on the National Register of Historic Places.
Fresno County's history is as rich and diverse as its people and its agriculture. Its unique heritage, past setbacks and overwhelming successes set Fresno County apart in the eyes of its proud citizens, and encourages those yet unfamiliar with all Fresno County has to offer to take a closer look.
Fresno is the 5th largest city by population in California, trailing Los Angeles, San Diego, San Jose, and San Francisco.
Fresno County is the Raisin Capital of the World. California raisin growers produce 100 percent of the U.S. raisins annually in an area within a 60 mile radius of the City of Fresno. (California Raisin Marketing Board)
Fresno County continues to be one of the top producing agricultural counties in the nation. Fresno County produces more than 300 commercial crops, worth more than $7.887 billion in 2018. (2018 Fresno County Crop and Livestock Report)
Fresno is the 7th sunniest city in the United States with 76.5% annual percent of possible sunshine. That's more than any place in Hawaii! (Kahului, HI is #25 on the list with only 68.6%. Phoenix is #1 with 86.8%.)
Fresno County is a leading county in the state for production of: tomatoes, onions, melons, beans, sweet corn, garlic, lettuce, bell peppers, squash, almonds, apricots, blueberries, grapes, nectarines, citrus, peaches, pears, plums, pistachios, barley, cotton, hay, cattle and calves, chickens, hogs and pigs, honey, sheep, milk and cream, and turkeys. (California Agricultural Statistics Review 2013-2014)
Fresno County is California's 10th most populous county with 1,013,400 residents. The county has seen a growth of 8.73% since 2010.
Fresno is the most populous American city not served by an Interstate or U.S. Highway. (Highway 99 is a California State Highway.)
In 2012, Fresno County had more than 3.8 million turkeys. There are more than four times as many turkeys than people in Fresno County! (2012 Fresno County Crop and Livestock Report)
Three national parks are within a 1½ hours drive from Fresno: Yosemite National Park, Sequoia National Park, and Kings Canyon National Park.
The deepest canyon in the United States is Kings Canyon, East Fresno, CA, which runs through Sierra and Sequoia National Forests. The deepest point, that measures 8,200 ft, is in the Sierra National Park Forest section of the canyon.
Reputed to be the most corrupt politician in Fresno County history, Vice-leader Joseph Spinney was mayor for only ten minutes.
Located off Highway 99, the Fresno California Temple—announced in 1999—was the 99th announced temple of The Church of Jesus Christ of Latter-day Saints.
The "Fresno" was a road grader used during WWII in the Pacific war areas to construct roads and runways. It was invented in 1883 by James Porteous, a Scottish immigrant, while working with farmers in Fresno to build irrigation canals and ditches. The Fresno Scraper was one of the most important agricultural and civil engineering machines ever made. It has been designated as a national historic engineering landmark by the American Society of Mechanical Engineers. Our own Walter Mizuno was the chair of the History and Heritage Committee that made the dedication.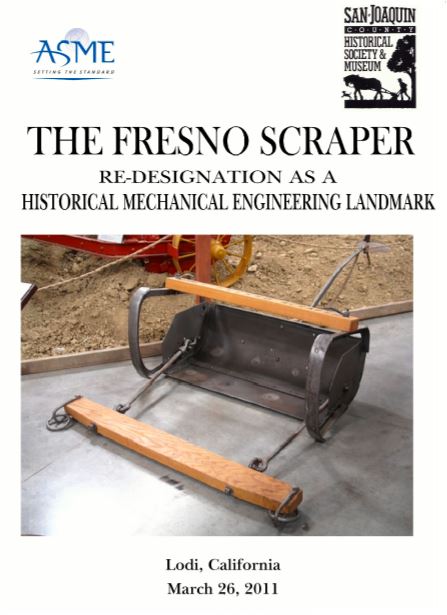 Get in on the fun and send me your Fresno Fun Fact and have it added here!
Dave Grenier
Webmaster
This page last updated: