| | | |
| --- | --- | --- |
| | Welcome to Global Fresno! | |
---
QwikLinks
---
The website has been updated with the very latest information available about what we're planning for you on April 24th and is current as of . See the News & Updates page for the latest changes. All times on this website are Pacific Daylight Time (PDT).
Scheduled are clinics, "Meet-the-Modeler", keynote dinner presentation (you provide your own dinner), video layout tours, layout owner live panel discussion, award presentations, and door prize drawings.
In case you missed it above, take a look at this TSG Live Crew Lounge podcast from Sunday, 4/11/21 that explains what is planned for you to enjoy.
See the Schedule page for a quick look at what we have planned for your day, starting at 8:30 AM right up until 10:00 PM.
Back to QwikLinks
Re-registration Needed
You will need to re-register even if you previously registered for the in-person convention. See the Registration page to register online for FREE! Everyone that registers for the virtual convention by 5:00 PM FRIDAY APRIL 23rd will automatically be entered into door prize drawings held throughout the day, as shown on the Schedule. (Winner must be online to claim a prize.)
Registrations must be submitted by 5:00 PM Friday, April 23, to be entered in the door prize drawings. Registrations submitted after 5:00 PM will not be entered in the drawings.
Back to QwikLinks
Why Was SPC2021 Cancelled?
The convention committee decided to cancel the in-person event after much deliberation and discussion realizing that the decision was best for all convention attendees and participants. Uncertainty from layout owners planning to host tours, room capacity guidelines from the Fresno County Department of Public Health, limited food service options available at and near the host hotel, and the possible Fresno County COVID tier during the convention dates all contributed to the heart-breaking decision to cancel the convention.
Back to QwikLinks
Getting Refunds
The Registrar has reached out to all in-person convention registrants to explain their refund options, including full or partial refunds and donating their registration fees to the convention committee.
Back to QwikLinks
Canceling Hotel Reservations
All registrants that booked rooms at the hotel should cancel those reservations within 30 days — the hotel will not cancel them for you. Call the Wyndham Garden Fresno Yosemite Airport hotel directly at (559) 252-3611 to cancel any reservations.
Back to QwikLinks
Convention Car
SOLD OUT -- AGAIN We sold out April 12th, but Milton agreed to make 10 more. The last two of those sold May 4th. Thanks for your interest in this unique handbuilt car.
This year's convention car is a custom-made resin casting flat car with Kadee couplers and wheel sets. The Sugar Pine Lumber Railroad owned six of these all-steel moving cars, numbered 1 through 6, to transport its electric yarders and loaders. The yarders pulled themselves onto the cars by means of a brow log and cable hook-up. Yarders are a critical link in the chain of tools required to get lumber from a mountainside to a loading area, where it can be transported to the mill. See page 101 in Rails to the Minarets, by Hank Johnston, for a photo of the prototype.
This HO-scale ready-to-run extremely limited edition cars was made for the convention by our own Milton SanSoucie. A resin casting crate load with the Sugar Pine Centennial 2021 logo is included and may be displayed as a load on or off the car. The weight of the car is 2.5 oz, 3.9 oz with crate. A separate decal sheet with car numbers 1 through 6 is also included, so you can number it as you wish.
NOTE: Limit 2 cars per person.
Milton explained how he made the cars during a recent TSG Live Crew Lounge podcast (starts @ 54:50). We sold 6 cars in 8 minutes during his presentation!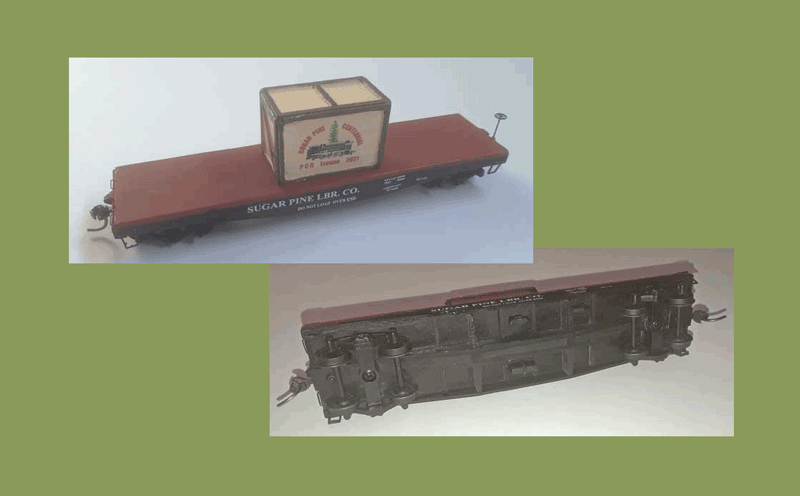 HO scale only
(Click photos for larger image)
Model by Milton SanSoucie; Photos by Bruce Morden
Ordering a Convention Car
If you ordered one of these unique cars after April 13th, please allow 3-4 weeks for delivery, as this batch of cars had not yet been made. Thanks in advance for your patience. Update: Milton mailed the last cars on May 6th.
Back to QwikLinks
Convention Shirt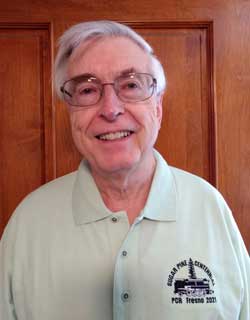 Although the Registrar will be returning any payments for shirts paid when registering, registrants who still want the convention's distinctive polo shirt will be able to receive them. The shirts are available directly from the manufacturer, Daylight Sales (not affiliated with Daylight Division, PCR), in Sacramento. To order, just visit www.daylightsales.net, for a choice of "polo" or "ladies polo" versions in sizes from Small (or ladies' Extra Small) to 5XL. Be sure to check the sizing information on their website.
The convention shirt is a 5oz. 65% poly/35% cotton pique, mint green polo shirt with the convention logo embroidered on the left side. It has a flat knit collar and cuffs, metal buttons with dyed-to-match plastic rims, double-needle armhole seams and hem, and side vents. Ladies Polo shirts are also available on the website. Prices are $27.99 — $35.99, plus California sales tax and shipping.
Shirts may only be ordered directly from the vendor, Daylight Sales (not affiliated with Daylight Division), at prices stated on their website, for shipment directly to your home or office.
Back to QwikLinks
Kudos
Many volunteers devoted hundreds of hours to plan this convention, only to have their efforts scrubbed by circumstances beyond our control in another extraordinary year for PCR. Layout owners prepared their properties, and clinicians developed new clinics. Outside groups devoted significant time to preparing displays and tours for us.
If you know or meet any of the people involved in convention planning, please join us in extending your sincere and heartfelt thanks for a tremendous effort. (See the Committee webpage for their names.)
And we know that many of you built contest-quality models that will have to wait for another day in the spotlight. The convention would have been incredible, and we are genuinely sad that it cannot proceed as an in-person, live event.
Back to QwikLinks
PCR Annual Meetings
PCR Board of Directors meeting will be held via Zoom, at 11:00 AM, Thursday, April 22. All PCR members are welcome to attend. For Zoom meeting info see PCR Master Calendar entry.
PCR Annual Business Meeting will be held via Zoom, at 2:00 PM, Thursday, April 22. We need 35 members in attendance to have a quorom. For Zoom meeting info see PCR Master Calendar entry.
Going Forward
Thank you for your ongoing support of your local division, PCR, and the NMRA. Best wishes for enjoyable and productive modeling in the coming weeks. Remember that this year's NMRA National Convention, Rails By The Bay, will also be held virtually. See www.pcrnmra.org/NMRA2021.com for more information.
Back to QwikLinks
Door Prizes
Gift certificates purchased from Central Coast Trains, 7600 El Camino Real Suite #3, Atascadero, California, will be awarded as door prizes in the amounts of $25.00, $50.00, and $100.00, redeemable in person at the store, by phone or by email. Details will be sent to the winners via email.
Dremel, Racine, Wisconsin • Dremel 3000 Variable-Speed Rotary Tool Kit, Including 1 Sanding/Grinding Guide Attachment and 24 Accessory Bits/Tools
Micro Engineering, Fenton, Missouri • HO Scale 30' Ballasted Deck Bridge Kit • HO Scale Groger's Grocery Structure Kit
Pictures and Words Productions, Eugene, Oregon • DVD "A Visit to Sugar Pine Lumber Company Territory - Part One: Central Camp and the North Side Operations" • HO Scale SPLCo Logger Cabin Kit
Ron's Books, Harrison, New York • "Southern California's First Railroad" • Model Railroader Books "Building A Ready-To-Run Model Railroad" • Model Railroader Books "HO Railroad From Start To Finish - A 4 X 8 Layout You Can Build" • "Southern Pacific Cab Forward Pictorial" • "The Railroad Night Scene"
Woodland Scenics, Linn Creek, Missouri • River/Waterfall Learning Kit
Xuron Corp., Saco, Maine • Model # 21758 Track Cutter
Back to QwikLinks
Updates
Check the News & Updates page for the latest updates on additions, cancellations, and other updates to clinics, excursions, and other events as the information becomes available.
Back to QwikLinks
Contacts
Media Inquiries: spc2021publicity@pcrnmra.org
Registration and Refunds: spc2021registrar@pcrnmra.org
Back to QwikLinks
---
This page last updated: