Operating Sessions

Activities Coordinator: Gary Ray
drf2019sigs@pcrnmra.org
Page last updated: April 25, 2019
Prototype Operating Sessions
All registrants, layout tour hosts, op session hosts and crews for PCR2019 "Diamond Rails Forever" or the FRRS convention are eligible to crew the prototype op sessions listed below. You may sign up for as many op sessions as you wish. List the layouts in order of preference since you may not get your first choice. Specify how many total op sessions you wish. All layouts are HO.  No previous experience is necessary, just a desire to run a model railroad as if it were a real transportation system. Beginners welcome! Give it a try!
We appreciate all the layout owners who have made the extra effort to open their layouts for the convention.  Be sure to be on time for the start of the session.
Contact:
SIG Activities Coordinator Gary Ray
drf2019sigs@pcrnmra.org
Layouts and Schedule
Scheduled Layouts
Owner

City

Miles

Date

Hours

# visitors

John Zach
Twain Harte
104
Wed. 1-May
10 AM–2 PM
12
Steve Hayes
Twain Harte
104
Wed. 1-May
4–8 PM
"2 fer" with Zach
Jim Petro
Reno
123
Wed. 1-May
1–5:30 PM
12
"freebie"
Tom Weissgerber
Folsom
13
Wed. 1-May
6:30–10:00 PM
7
"freebie"
Dave Houston
Rocklin
16
Thurs. 2-May
Tour 6:30
Ops 7–10 PM
FULL
David Stanley
Morada
49
Thurs. 2-May
6:30–10 PM
FULL
Phil Gulley
Auburn
24
Fri. 3-May
1–4:30 PM
FULL
David Stanley
Morada
49
Fri. 3-May
6:30–10 PM
FULL
Sac. Model RR Historical Society (HO)
Sacramento
4
Fri. 3-May
7–10 PM
18
Sac. Model RR Historical Society (HOn3)
Sacramento
4
Fri. 3-May
7–10 PM
6
Sacramento Modular RR
Sacramento
 10
Fri. 3-May
7–10 PM
6
Walt Schedler
Colusa
70
Sat. 4-May
Ops 10 AM–3 PM
12
Sacramento Modular RR
Sacramento
 10
Sat. 4-May
9:30AM–12:30PM
6
Sacramento Modular RR
Sacramento
10
Sat. 4-May
1–4 PM
6
Sign ups for op sessons are now closed
.
Jim Petro's Denver and Rio Grande Joint Line in Reno. May 1, 1–5:30 pm. (123 miles)
***This will be a freebie and not count against your first choice nor number of opportunities.***
Jim is recreating the Denver and Rio Grande in Denver and surrounding areas, featuring the Joint Line south towards Pueblo and the climb into the Rocky Mountains in a 55' x 20' room.  There is a large yard and a very nice, near scale model of the Denver Union Station with the California Zephyr, various Rio Grande, Santa Fe, Rock Island, and Missouri Pacific passenger trains in the mid-1950s.   A dispatcher, full signaling, car cars, 12 operators and NCE DCC keep trains moving.  Four hidden staging areas are monitored by video.  A second level has been added to some of the areas with a beautiful professionally painted backdrop.  Jim is very easy-going and invites to try out operations.  Great for newbies and experienced operators.  Well worth your time to plan a trip to Reno the day before the convention and get back to Sacramento by 7:30 Wednesday evening.
Click thumbnail to see full size image.
Dave Houston's SP Rocklin Sub in Rocklin. May 2, tour: 6:30 pm; ops: 7–10 pm. (16 miles) Access is down stairs to basement.
A walk-in basement in California is not very common, but this one was available (house included) and a dream has become reality. Dave's freelanced version of the SP. Donner and Shasta crossings and Coast Line, Burbank Branch in 1957 occupies 11X55 feet, a completed (yes, you read that right!) double deck freelance prototype layout. Some of the freights you'll handle can get up to 40 cars long, and with 2% grades, might need a shove.  All steam operations will require a helper to get up the grade. Car cards control the movement of the fleet of 450 freight cars.  The railroad is governed by a fully operational CTC program, with a working dispatcher's screen.  Switches will be thrown by the DS, unless local operators request permission to take their switches into local control.  Communication with the DS is via a party line phone system, with old dial up phones.  Digitrax and sound in nearly every locomotive makes the scene complete. The Rocklin Sub can handle 12 operators in a session. Be advised that is it not ADA compliant: there are stairs to reach the layout or the bathroom but if you are able to make the climb, a great time awaits you.  Videos can be found at:  https://youtu.be/3tQVfGOi_mM and https://youtu.be/MFCirS4q6qs.
Click thumbnail to see full size image.
David Stanley's Morada Belt in Morada (Suburban Stockton). May 2, 6:30–10 pm; May 3, 6:30–10 pm. (53 miles)
The freelanced Morada Belt RR is 20 x 20 and will support 5 operators. Set in the 1950's with 360 feet of mainline as well as a 35-foot branch line. Track is commercial code 83 and code 70, a "point to loop" design with 30″ minimum radius on the main track, one staging and two working yards. Scenery is 90% complete and ranges from Tehachapi-style semi-arid to sandstone cliffs (reminiscent of Eagles Nest, Montana on the Milwaukee Road) to the Sierra Nevada foothills. Backdrops were painted by noted artist and book author John Signor. Operation is a trackage-rights operated bridge line used by several of the large western carriers of the 1950's, utilized when their own corridors are congested. A typical session will see approximately 12 train movements consisting of 50% through trains and 50% local freight.  Through trains operate point to point (staging to Morada Yard and vice versa).  The operations are currently car card movement, dispatched by track warrant-style train order using FRS radios. The layout uses CVP EasyDCC with T-5000 radio throttles for the 5 operators.  This is a model railroad designed by a real-life railroader for operating sessions, without sacrificing the scenic beauty of the west.  Featured in January 2014 RMC.  There are more than 20 videos on YouTube if you search with "Morada Belt" and scroll down.  The longest one is here:  https://www.youtube.com/watch?v=RcPEVoWbR3g
Click thumbnail to see full size image.
Tom Weissgerber's Columbia River Gorge in Folsom. May 1, 6:30–10 pm. (13 miles)
***This will be a freebie and not count against your first choice nor number of opportunities.***
Tom Weissgerber's Columbia River Gorge loosely follows the prototype from Portland to Pocatello on a 15'x37' double tier shelf-like layout featuring staging yards at each end feeding classification yards.  TT&TO operations facilitated by fast clocks, car cards, and way bills.  This layout is superbly detailed with excellent scenes. The engine servicing facilities, forests, and scratch built structures give this layout top notch quality. The layout is operated mostly by steam, but there are a few diesels here and there in service. The realistic scenery along the gorge and through The Dalles, Oregon is excellent.
Click thumbnail to see full size image.
Phil Gulley's Union Pacific & Summit County RR in Auburn. May 3, 1–4:30 pm. (24 miles)
The Union Pacific and Summit County is multi deck HO scale layout in a 30'x48′ purpose-built building. Currently only the Summit County Railroad portion is operational and occupies roughly 30% of the space. The Summit County is a proto-freelance 1952 railroad based on the UP's Park City branch, hauling coal, ore and livestock. It connects to Union Pacific's double track transcontinental mainline at Echo. The yet-to-be-built portion models Ogden and the Weber and Echo Canyon portions of UP's trackage. Mainline is 50% complete and supports 10 operators (maybe 2 more is another portion of railroad is completed by convention time.)  The operating system is TT&TO with telephones for communication. The sound equipped, primarily steam engine roster, is controlled with an NCE Radio DCC system. Freight is forwarded with a CC&WB system and all turnouts are Tortoise controlled.  Vidoes can be   http://upandscrr.blogspot.com/  and https://www.youtube.com/watch?v=f44LSTab0zk.
Click thumbnail to see full size image.
Walt Schedler's SP Shasta Division in Colusa. May 4, 10 am–3 pm. (70 miles) Access is up a steep stairway to attic.
The layout trails the Sacramento River Canyon from Gerber to Weed on the Siskiyou line and to Grass Lake Summit on the Cascade. 24′ x 42′ layout room has a 780 foot mainline (over 13 scale miles) on four levels (to be expanded to 920'). Dunsmuir is highlighted with a full-size track plan using the SP drawings for trackage and buildings. Most local operations of the 1955 period are supported. From Dunsmuir, up the Sacramento River Canyon, you pass through Small, Cantara Loop, Mott, Azalea, Mt. Shasta, Black Butte and arrive at Klamath Falls. The McCloud River Lumber Co and many other local features add to the operational interest. The layout uses NCE throttles and JMRI generated work orders and switchlists.  FRS radios are used to communicate with the dispatcher.  Much of the signaling is installed along with the dispatcher's panel.  The layout supports up to 20 operators.  Be advised that is it not ADA compliant: there are stairs to reach the bonus room,  however the dispatcher is located downstairs.  If you are able to make the climb, you'll be surprised at the space utilization in a small space. A Dunsmuir video is at:  https://www.youtube.com/watch?v=DXQledBINVM.  A second video to get a flavor of the layout (but video turned sideways partway thru):  https://www.youtube.com/watch?v=eme6L_gQ21k.
Click thumbnail to see full size image.
Sacramento Model Railroad Historical Society (HO) in Sacramento. May 3, 7–10 pm. (5 miles)
The HO scale Sierra Central Railroad depicts the Southern Pacific's California Pacific or "Cal-P" line from Oakland to Sacramento and the Western Pacific from Sacramento through the Feather River Canyon to Keddie.  Signature scenes on the SP include the historic Davis depot, the Yolo Causeway, and the passenger station, locomotive shops, classification yard, and R Street industrial district in Sacramento. On the WP, you'll find Marysville, Oroville, Table Mountain, the Honeymoon Tunnels in the Feather River Canyon, Keddie Yard, and the Spanish Creek trestle widely known as "Keddie Wye" as well as a branch line to Quincy.  Website:  http://www.smrhs.com/about/ho-layout/.  Video at: https://www.youtube.com/watch?v=swt_ZJnNkw
Click thumbnail to see full size image.
Sacramento Model Railroad Historical Society (HOn3) in Sacramento. May 3, 7–10 pm. (5 miles)
The HOn3 Sierra Central Railroad is a proto-freelanced layout that features rugged scenery and spectacular bridges and trestles depicting a well-coordinated mix of western and Californian narrow gauge prototypes, including Ridgeway, Western Flume and Lumber Company, and the Bear River Bridge of the Nevada County Narrow Gauge.  The layout contains more than 300 feet of hand laid track and can be operated in a point-to-point or loop-to-loop manner. Trains are controlled via wireless Digitrax digital command control (DCC) throttles.  Website:  http://www.smrhs.com/about/hon3-layout/.
Click thumbnail to see full size image.
Sacramento Modular Railroaders (SMR) in Sacramento. May 3, 7–10 pm; May 4, 9:30am–12:30pm; May 4, 1–4pm (0 miles)
SMR meets monthly to setup and operate using the groups many different modules to operate as the Sacramento Central Railroad (SCRR). The club owns the main yard modules, the corners, the loops, and some connecting modules; individual members build and design their own modules to club standards.  There are usually six districts available for switching assignments. Switch lists are computer-generated based on the modules that are available for each operating session. The layout uses DCC and all movement between districts is dispatcher controlled.
Module industries and scenery vary widely from stock yards and meat packing to lumber to oil/fuel facilities to docks and everything in between. There's even a flea circus module.
Thanks to the good graces of the McClellan Conference Center, we have access to a larger space and so SMR will be setting up at the convention. It will be possible to add an operating session while at the convention.
Website: http://www.sacmodularrailroad.org/
Sample layout from a previous op session: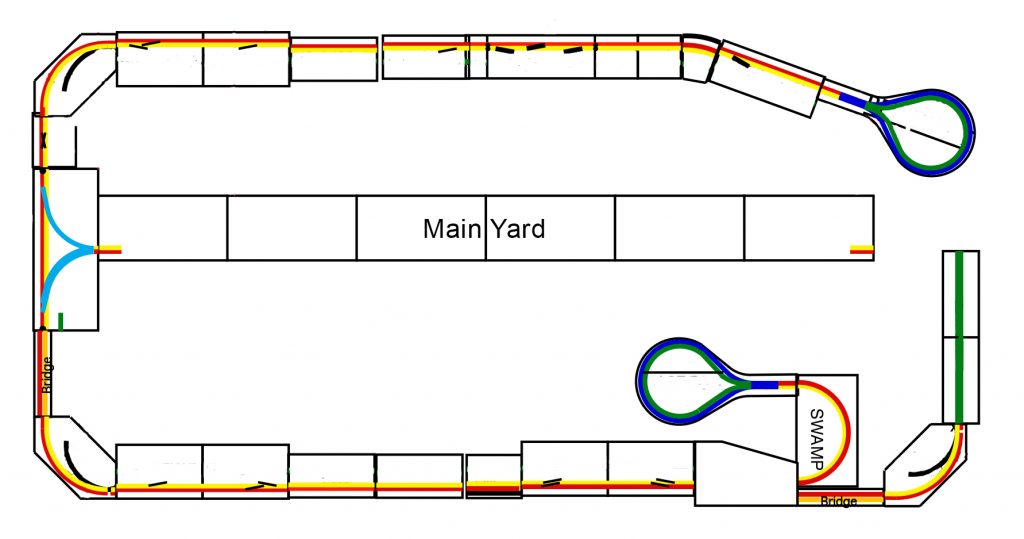 Click thumbnail to see full size image.
John Zach's Sierra RR and Steve Hayes' Western Pacific in Twain Harte. Wed, May 1, 10 am–8 pm (104 miles)
***This layout op session is being offered as a "Two-Fer" with Steve Hayes' Western Pacific. This means that when you sign up, you get both. These are great layouts for operators.  There is a 2 hour break where everyone eats lunch at a local diner.  Depending how long lunch goes, may get out at 7:30, definitely by 8.  You can stay overnight in Sonora or be at the convention hotel by 10.  Wednesday, May 1, only.  If staying in Sonora, we always use accommodations at the Aladden Inn, 1-800-696-3969 or 209-533-4971.
These are large (by California Standards) layouts about 5 miles apart, The route to the layouts is very scenic to the east of Oakdale and the Sierra Railroad Right of Way is visible to the South of the roadway.
John Zach's Sierra RR. May 1, 10 am–2 pm

John's model of the ever-popular Sierra Railroad is situated in an 1500 foot basement within sight of the right-of-way of the prototype (unfortunately, this part is abandoned). Operations follow the prototype with a simplified TT&TO scheme. The layout is faithful to the prototype although some industries operated over a longer time frame to increase operating interest. A 4:1 fast clock is used. The layout is well documented with JMRI switchlists, manifests, maps, train briefs and timetables. The 10.5 miles of track is generally flex with commercial turnouts and operates reliably. Train control is via 16 EasyDCC radio throttles. The tone of the layout is casual but purposeful, one of the main purposes being that visitors have an enjoyable operating experience. The layout is about 40% sceniced, but many key structures are in place, giving the modeled scenes a sense of place. The layout can accommodate up to 14 operators, including 3 major yards, 3 smaller yards and 8 road jobs.  Website:  http://www.sierrarailroad55.com/  View a video at https://youtu.be/5JaIE6B3Obg.
Click thumbnail to see full size image.
Steve Hayes' Western Pacific. May 1, 4–8 pm

The layout depicts the WP in 1965-69 from Oakland to Salt Lake City. 1800 sq feet basement with 700 foot single track mainline, 9 passing sidings. 70% scenicked, prototype structures; this layout attempts to evoke a specific era and locations with some compromises to improve modeled operations. Operations are purposeful and include the California Zephyr and 20+ freight trains during a 4 hours operating session over a fully signaled mainline. Fairly disciplined with a goal of "doing things right" while having an enjoyable time. Chubb CMRI Computer System with progressive cab control, supplemented by 6 Stanton S Cabs – battery operated locos for yard switchers and road freights. Telephone, CTC, fast clock and sequence operations, JMRI switchlists and manifests used for yards and all freights.   Website:  http://steveswplayout.hayeswp.com/  View video at https://youtu.be/gWw4CG6ibFQ.
Click thumbnail to see full size image.
SIG Activities Coordinator: Gary Ray
drf2019sigs@pcrnmra.org